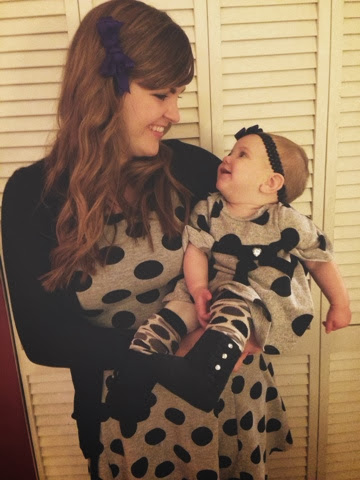 Last night the Tuckahoe gang spent some time with Jeremy Griesse, who was in town for Christmas. Upon walking in the door, I saw Maggi in her gray dress with black polka dots! Evangeline happened to also be wearing a gray dress with black polka dots. How fun! So of course I had to take a few pictures of these matching "birthday buddies."
It is really easy to get Evangeline to smile for pictures. For some reason, she really loves the song "Pirelli's Miracle Elixir" from "Sweeney Todd." A bit strange–but I sing it any time I need/want a smile from her. Liam and Kai now love to sing it to her too. Who doesn't want to see that precious smile?
Another stomach bug has taken over at the Roberts' house. Don, Kai, and Evangeline are all down with this one. I hope it leaves our house and doesn't interfere with our New Years plans!
Today is a Netflix watching kind of day. So we will crack the windows on this warmer day and hope the bug leaves other half of the family alone.