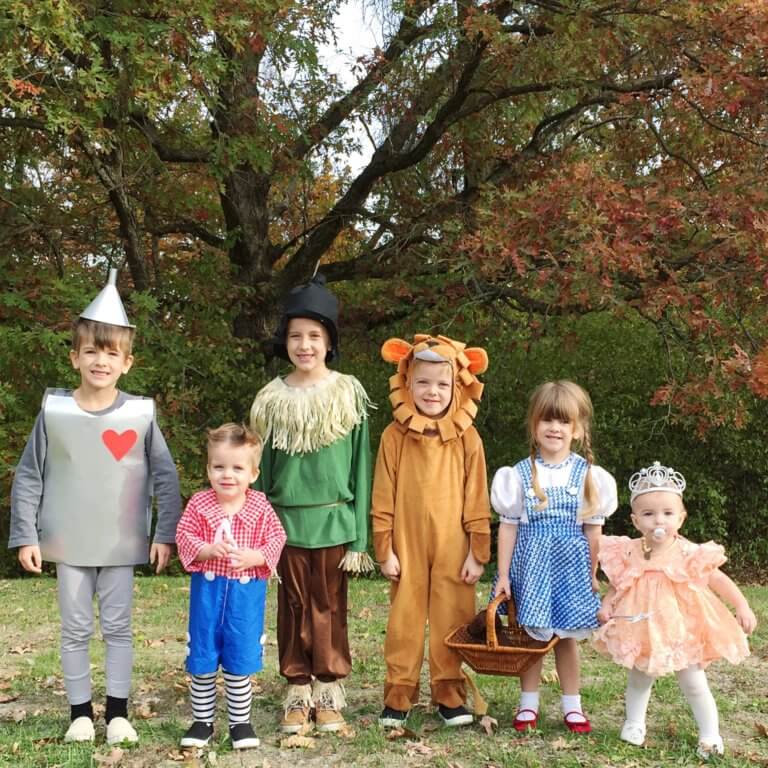 Introducing the cutest crew in Oz! I'm a few days late on sharing our Halloween pictures but we had a short hospital stay with that little munchkin up there so I was unable to get it posted any sooner. Thankfully we are home now and Desmond is feeling much better! I will share more about it on my next post in a few days. But I just wanted to thank everyone who reached out to us with well wishes and letting us know you were praying! We have felt so loved!
Anyway, I thought the kids' costumes looked so adorable this year so I just wanted to share a bit about them. I have a big obsession with doing family themed costumes and no matter how stressed out I feel leading up to Halloween, I still can't give up that obsession. Thankfully my kids love it too so they always love to help come up with a theme. This year was a bit difficult because two of our costume ideas fell through. But I think it ended up being for the best because they looked adorable as the Wizard of Oz characters.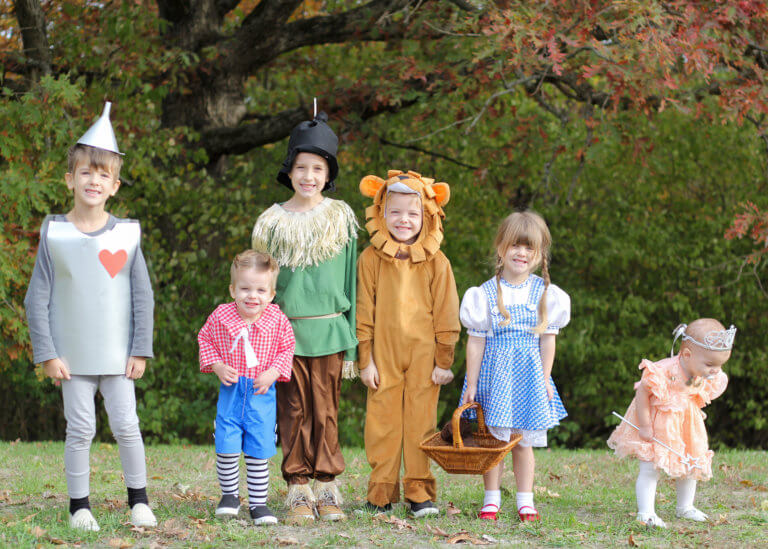 I typically like to DIY or thrift items to piece together their costumes. This year I only ended up doing a little bit of DIYing (totally proper grammar right there.) Some of the costumes ended up being purchased pre-made. But since they were also thrifted, it still felt like a lot of work to find all the right pieces.
Liam, the Scarecrow. And Kai, the Tin Man. Both boys were super excited with how their costumes turned out. Kai was a trooper and never complained about that obnoxious poster board costume, even though I know it had to be annoying and uncomfortable at times.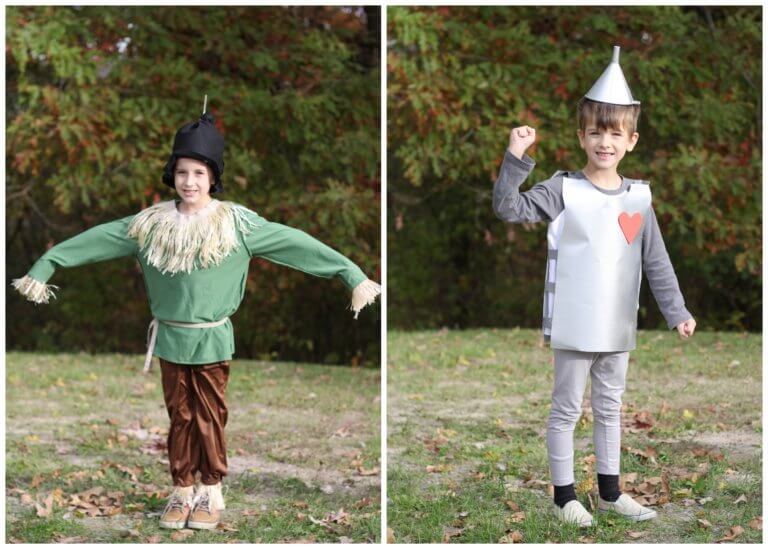 Kingston was thrilled to be the Cowardly Lion. And I was thrilled that he was thrilled. Evangeline's Dorothy dress was actually the first piece I found (at a thrift store.) That was the piece that inspired the whole theme. I'm pretty sure that every time I looked at her the other day, I told her how beautiful/adorable she looked. She was the perfect Dorothy!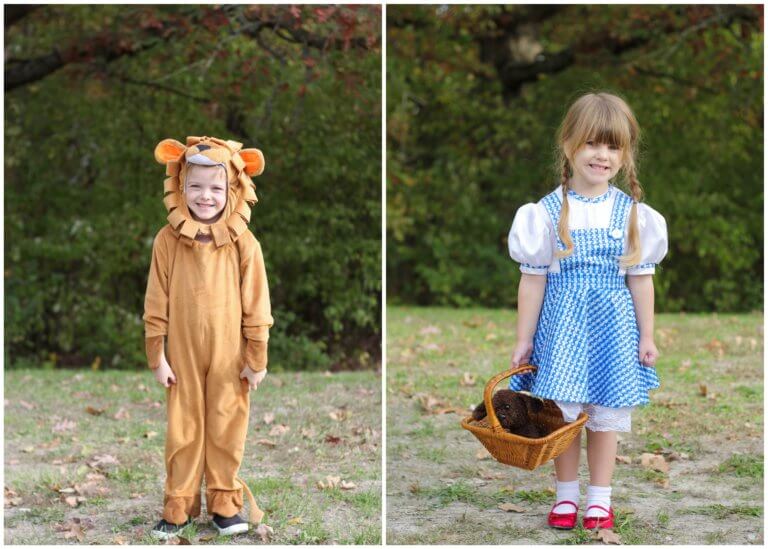 I had a hard time deciding who Desmond would be. I found this little outfit (I think it's actually a Raggedy Andy costume?) from Goodwill and thought it would be perfect for a munchkin costume. But even better than the actual costume is the hairdo he was rocking. I laughed every time I looked at him. I seriously almost changed my mind at the last minute, thinking maybe he should be the Wizard instead. But I'm SO glad I stuck with my original plan because he was so cute and he got so many compliments that night.
And my little Clementine (who didn't want to stand still for pictures) was Glenda the Good Witch. Surprisingly, she kept the crown on her head for most of the night!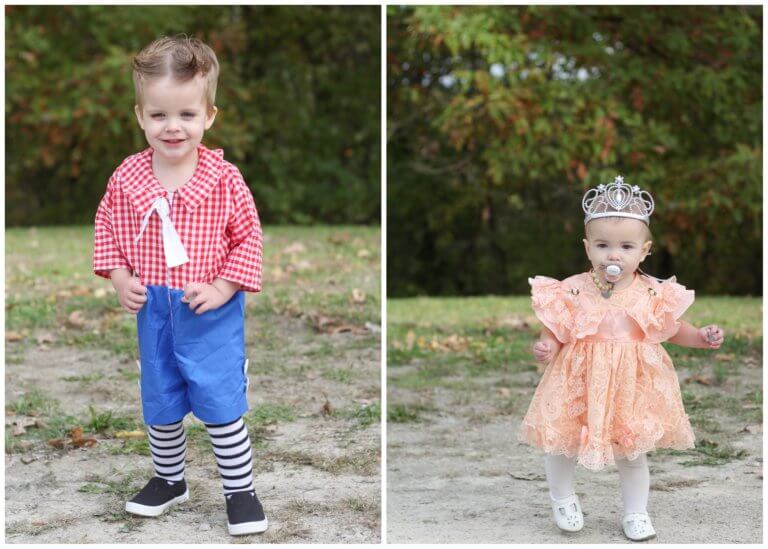 You can probably tell from the photos that is was kind of chilly outside and all the kids were ready to hop back in the heated van haha. But they were troopers and let me take a few pictures first.
Even though I stressed myself out, I was so excited to see it all come together! And they won the costume contest at the Fall Festival we visited that night so it made it all worth it! I'm already scheming for next year's costume and hoping that the big boys will stay on board with the family costume idea for many more years.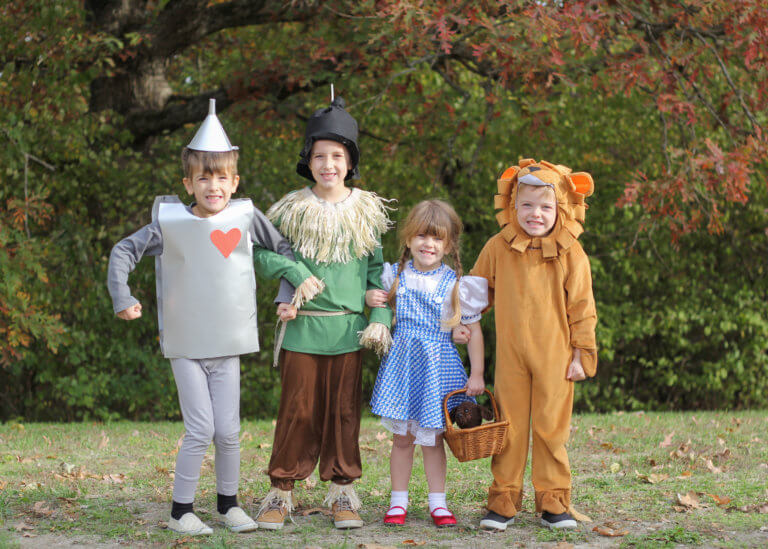 Anyway, I think that's all I'll bore you with for now. But I'll leave you with one more Halloween photo, featuring one of my favorite quotes from Michael Scott (The Office.)  And in case you're wondering, Clementine cooperated for maaaybe 20 seconds so I'm amazed that we got a decent photo.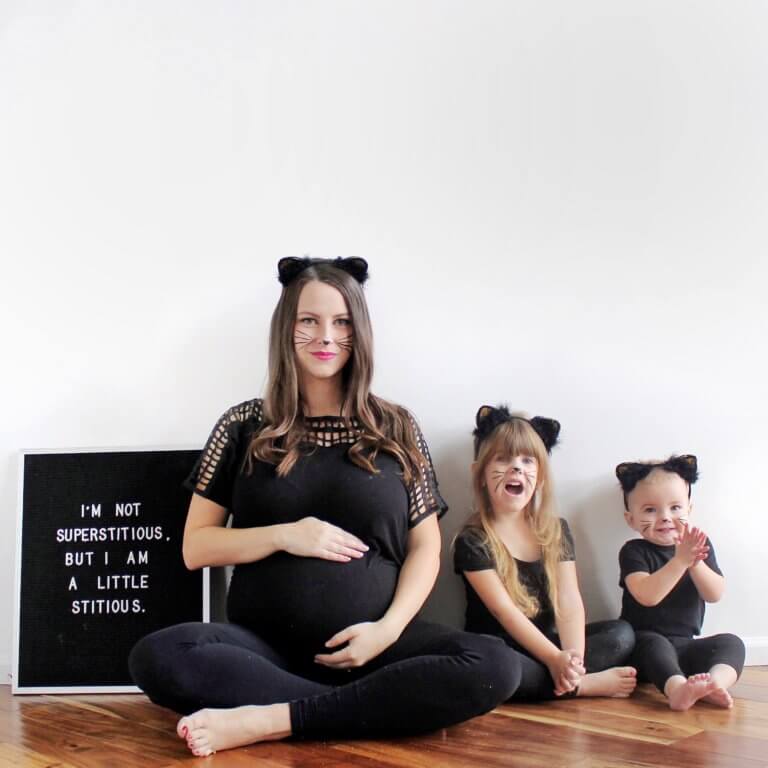 I hope you had a fun Halloween as well! Have a happy weekend!