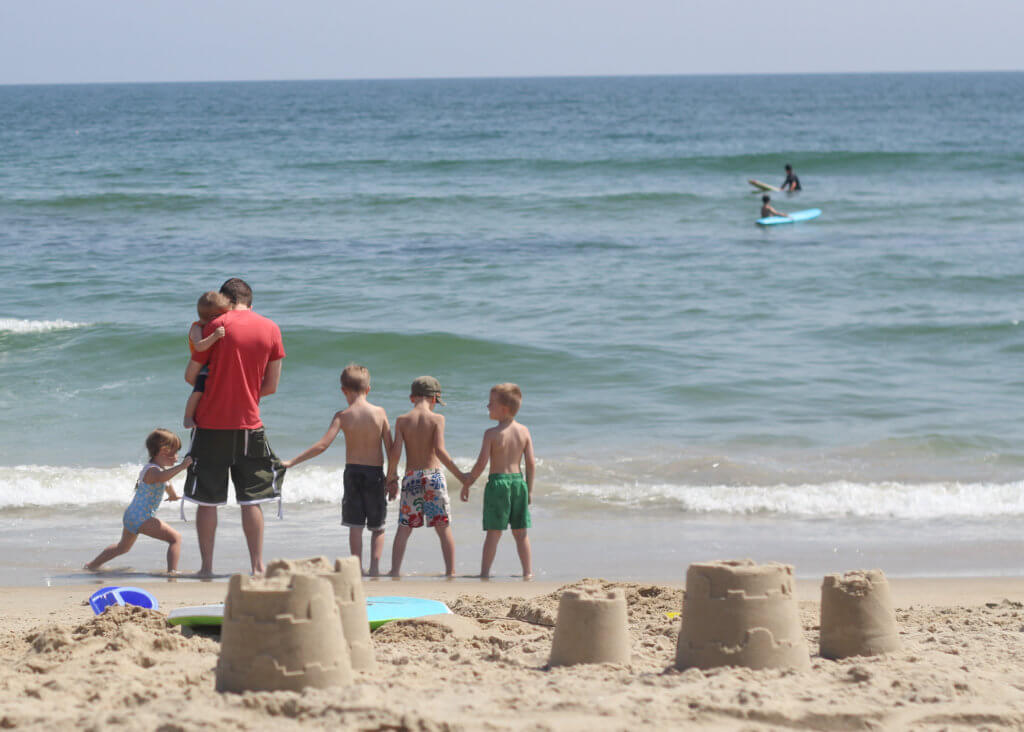 I had high hopes of getting all of our vacation photos up on the blog this week and it just didn't happen. I guess that's just life with kids. Hopefully I can get the rest up over the weekend! I already posted about our first couple of days here.
Anyway, when we planned this trip, we really didn't have much on our itinerary besides lots of trips to the beach and the sand dunes. It definitely wasn't as relaxing as it was the last time we went (back when we only had 4 kids–I'm going to blame it on the 2 youngest who just have a slight obsession with their parents.) But we still had so much fun! We may have looked like a circus trying to get to the beach with 6 kids and tons of beach gear, but it was so worth every bit of effort!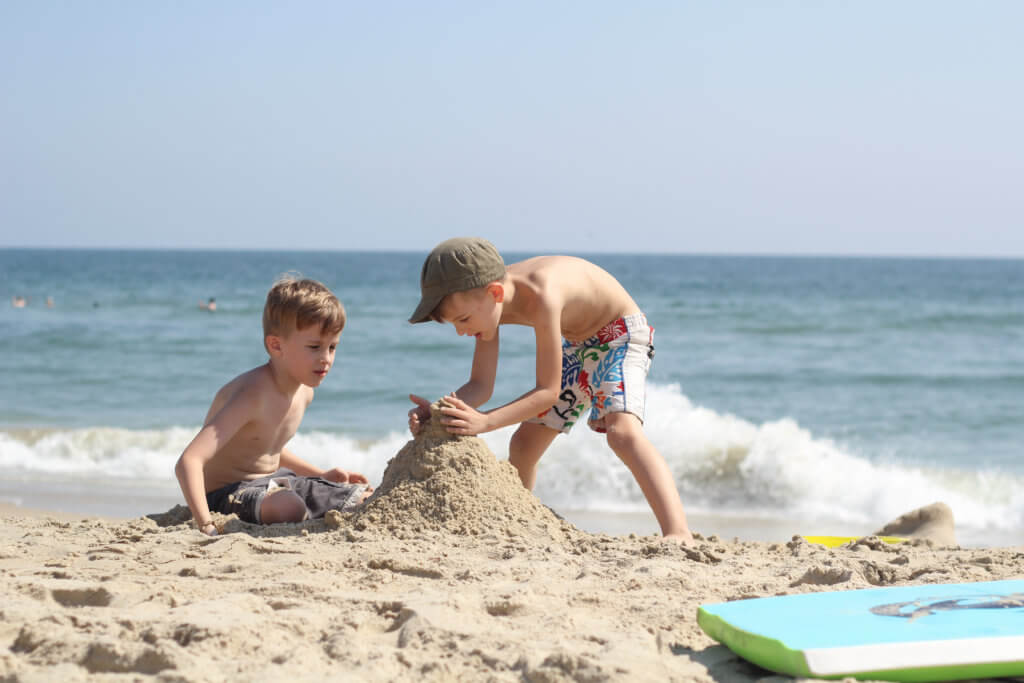 I really am telling the truth when I say that my kids' best friends are each other. Yes, they fight like every other kid. But you can tell they have such a deep friendship. They are constantly trying to work together or imagine new games together. When other moms ask me "how do you do it?"–I really feel like their relationships with each other helps me so much! They always have each other.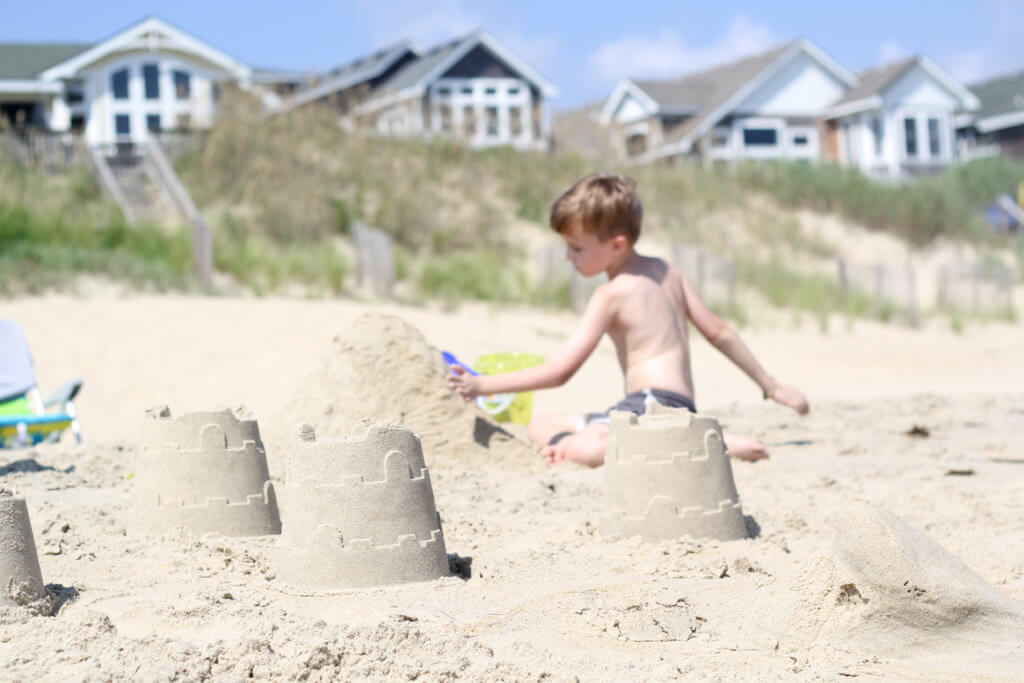 I love this picture of the girls! You'd never even know that Clem was terrified of the beach and was screaming like crazy at this moment.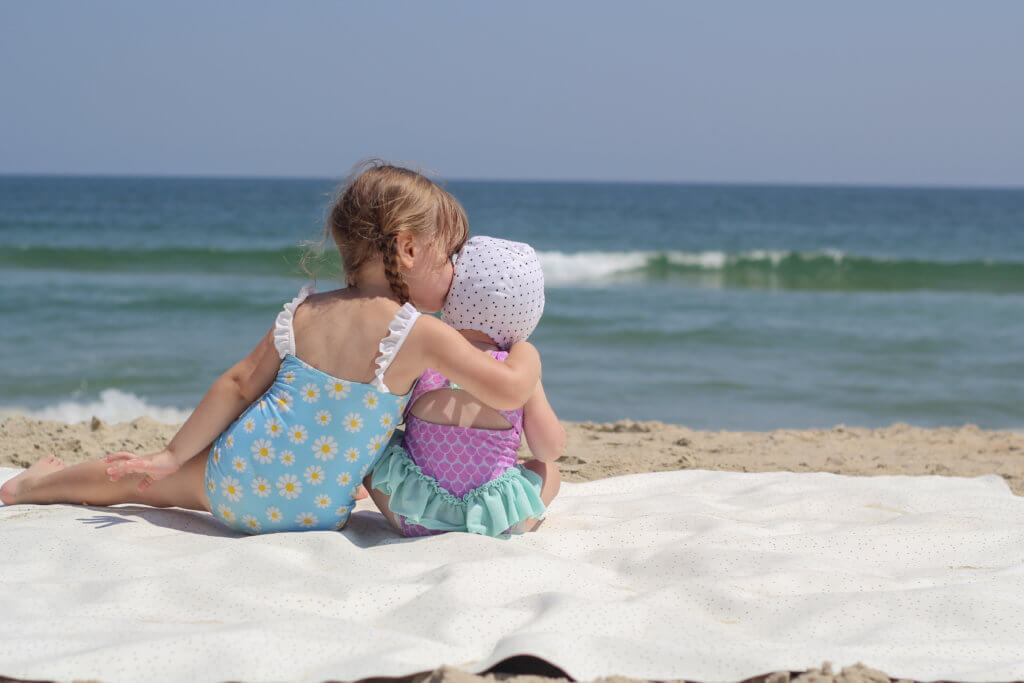 Maggi and Mabel! It was so much fun going to the beach with them every day!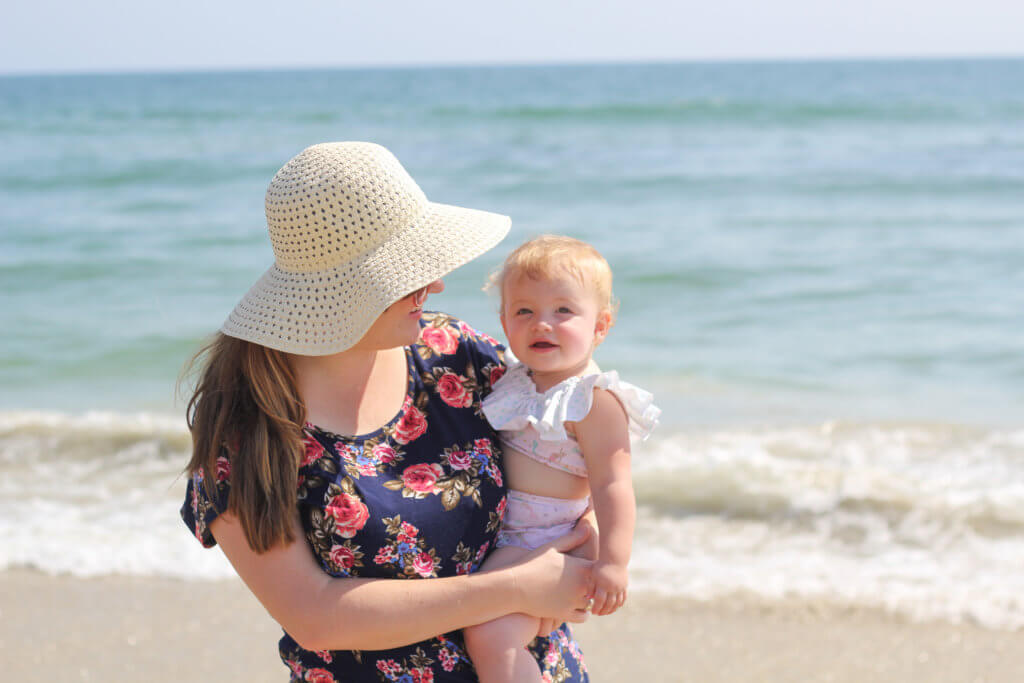 One of our favorite places in the Outer Banks is the sand dunes. We love to go at sunset to watch it set over the water (when the sand isn't hot anymore.) The walk was a bit more brutal with a baby on my back and a baby in my belly on those steep sand hills, but again–totally worth the effort.
After a couple days of avoiding the sand at the beach, Desmond FINALLY let Don set him down in the sand at the dunes. He absolutely loved it. I asked him to go over by Liam to get a picture with him because they were matching. And for some reason, he kept mimicking the way people were standing. It was pretty adorable. I'm so glad I caught this series of photos.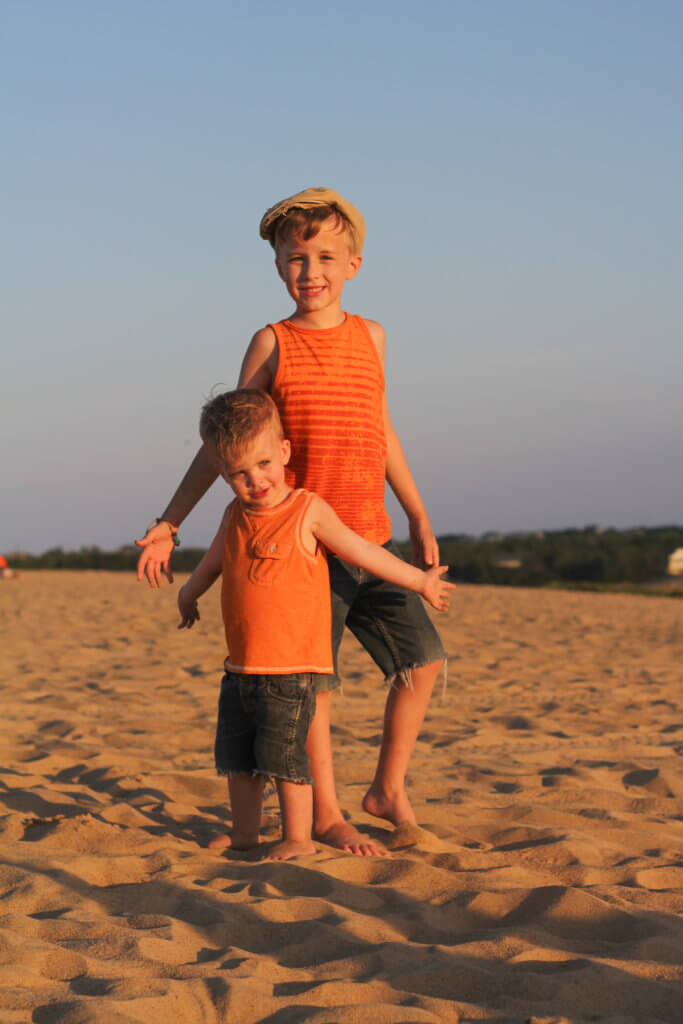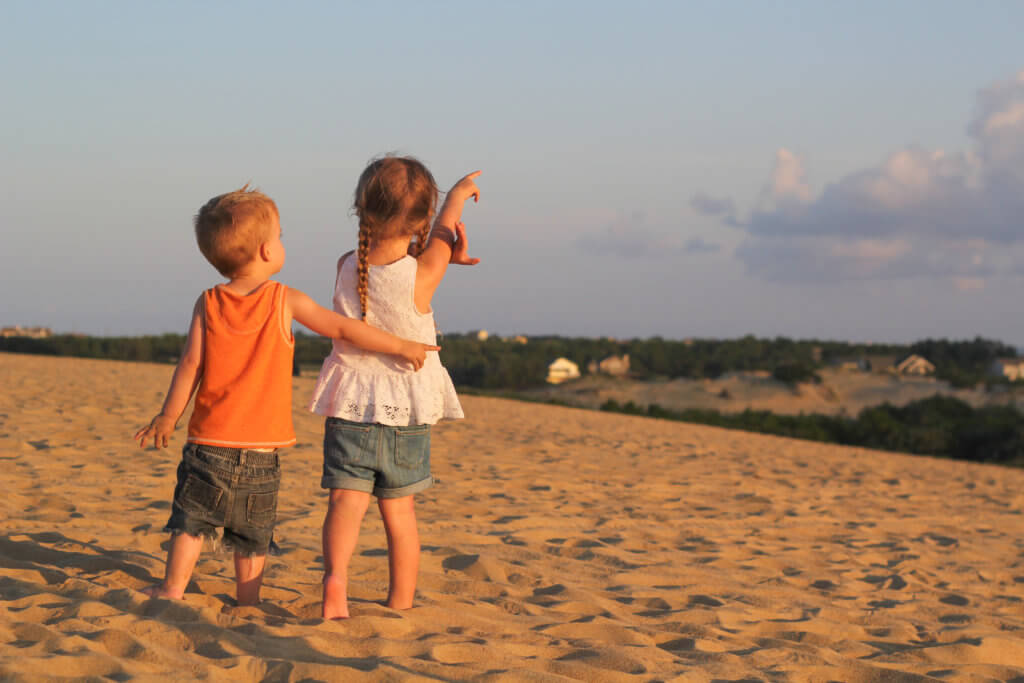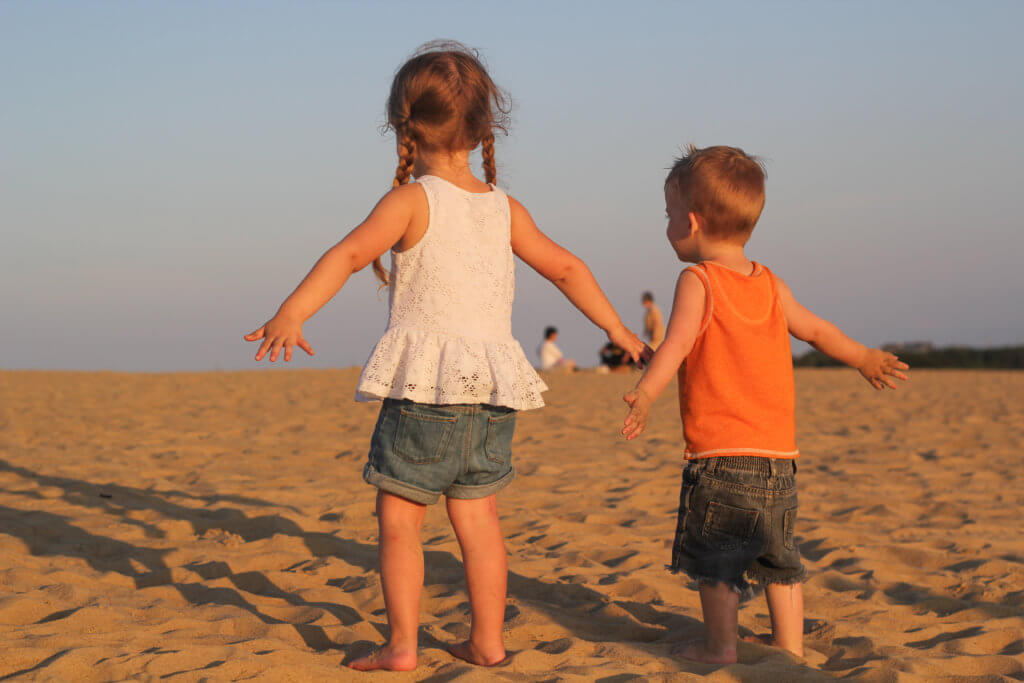 When I say he loved it, I mean he LOVED it! At one point I had to splash some water in his eyes to get rid of some sand. But that didn't stop him from pouring more over his head and rolling around on the ground.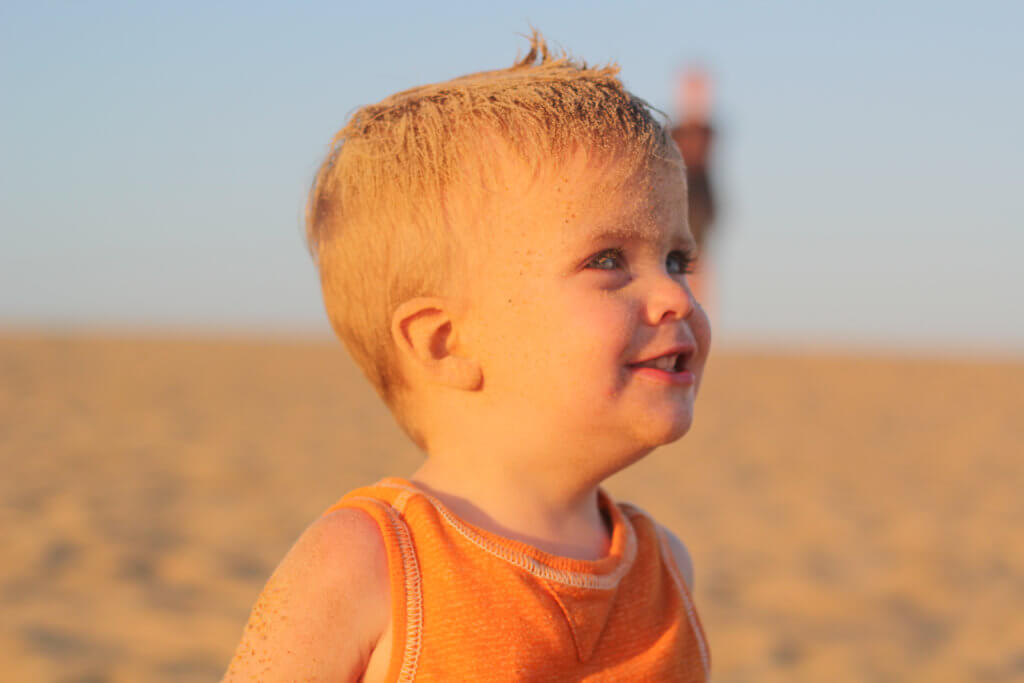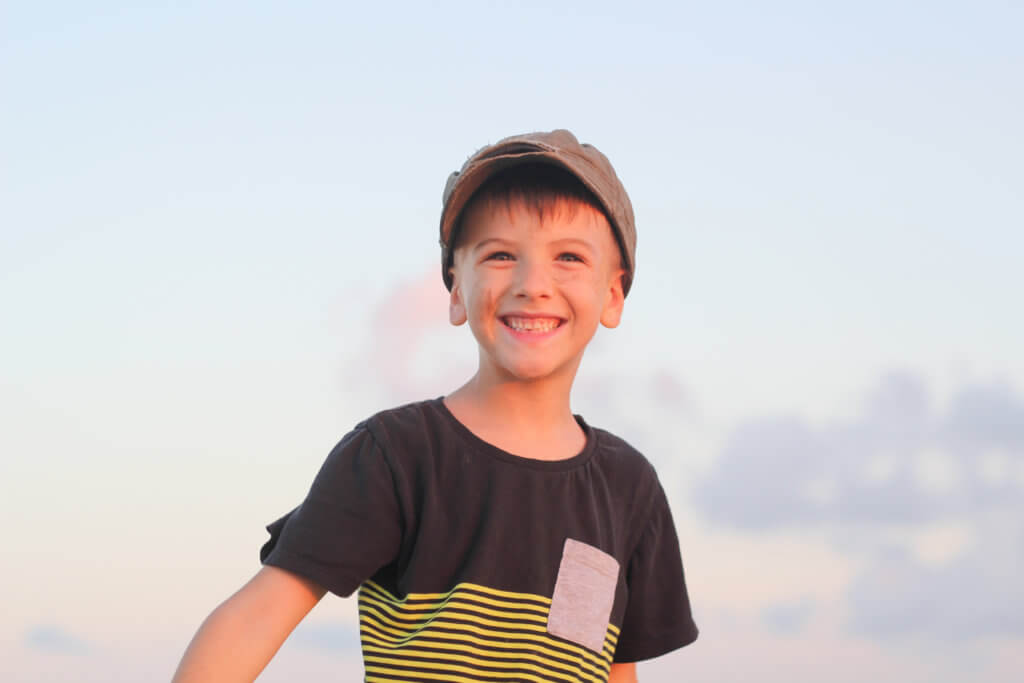 One of my favorite pictures that I had Don snap of me and Clem. If I don't ask for him to take pictures of me every once in a while, you'd never know I was on vacation with them haha.
The one thing I don't miss about vacation is cleaning the kids off multiple times a day! At the house we stayed in, there was a wonderful outdoor shower to rinse all the sand off. So every afternoon and night we were going in there to clean up (with screaming babies!) One day after we got back from the beach, I went to rinse off our beach mat when I saw a spider so huge that it seriously had me running for the first time in 15+ years. The whole time I kept saying "Oh, my goodness! No no no no no no no!" I can only hope the neighbors didn't see! But I still shiver every time I think about the fact that we were going into that shower AT NIGHT with that thing. It was the biggest spider I've ever seen (outside of the zoo.) Totally not exaggerating. Let's just say we found other ways to clean off after that incident.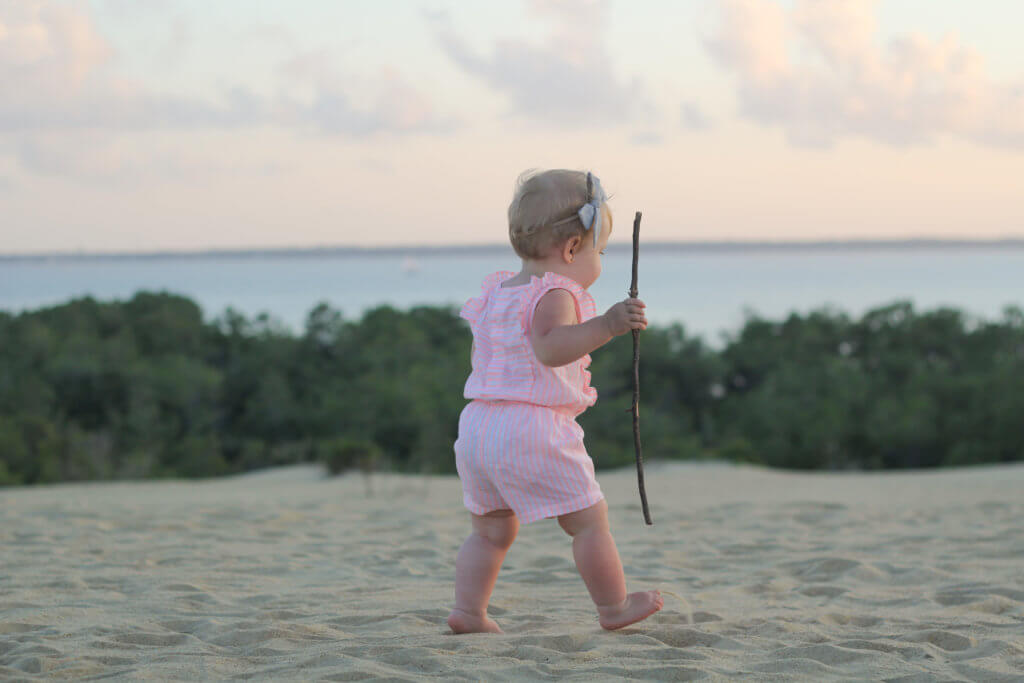 So, so pretty!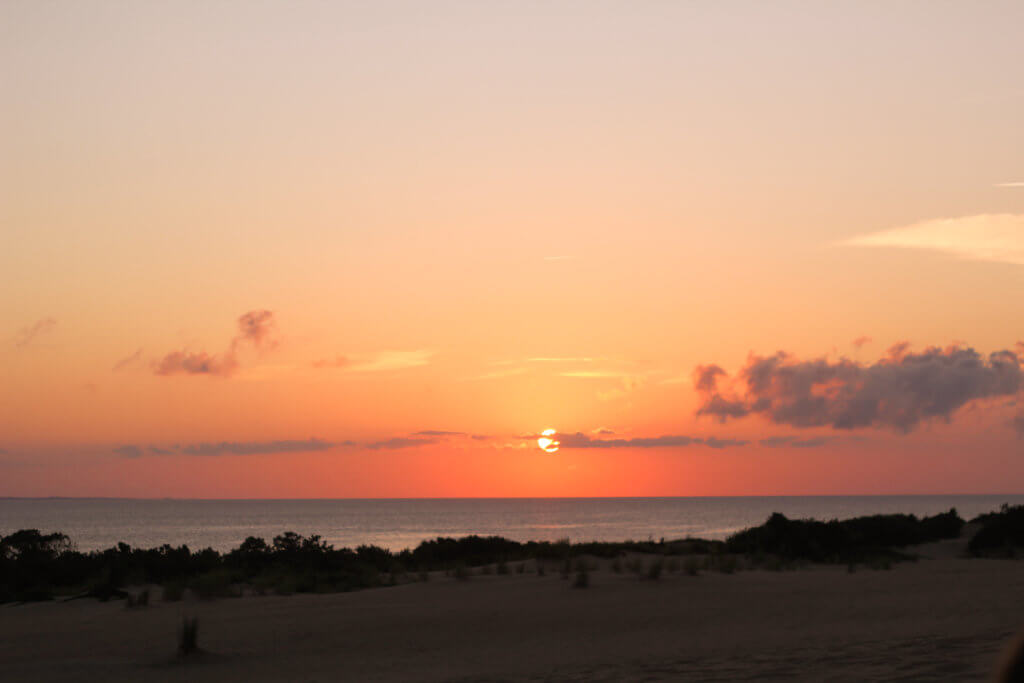 Every time we go to the Outer Banks, we make a trip to the Bodie Island Lighthouse. I'm totally in love with the black and white stripes. And totally disappointed that my camera lens cropped it too close. But I do have a couple full pictures of it in my August Recap post. The carrier that Clem is in is called an Onbuhimo and it's from Sakura Bloom. It took a few tries to get it to feel comfortable but Clementine and I both love it now! She giggles and smiles the whole time. It's the best thing in the world to hear those giggles in my ear.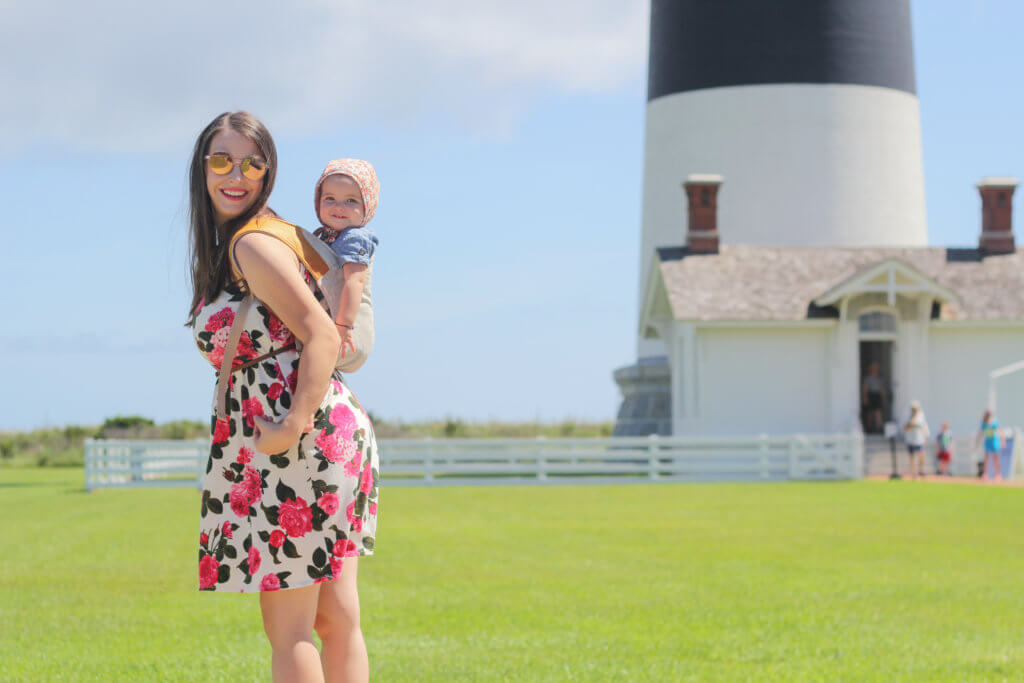 So blessed to have the 2 best friends in the world! And so excited to be pregnant at the same time (again!)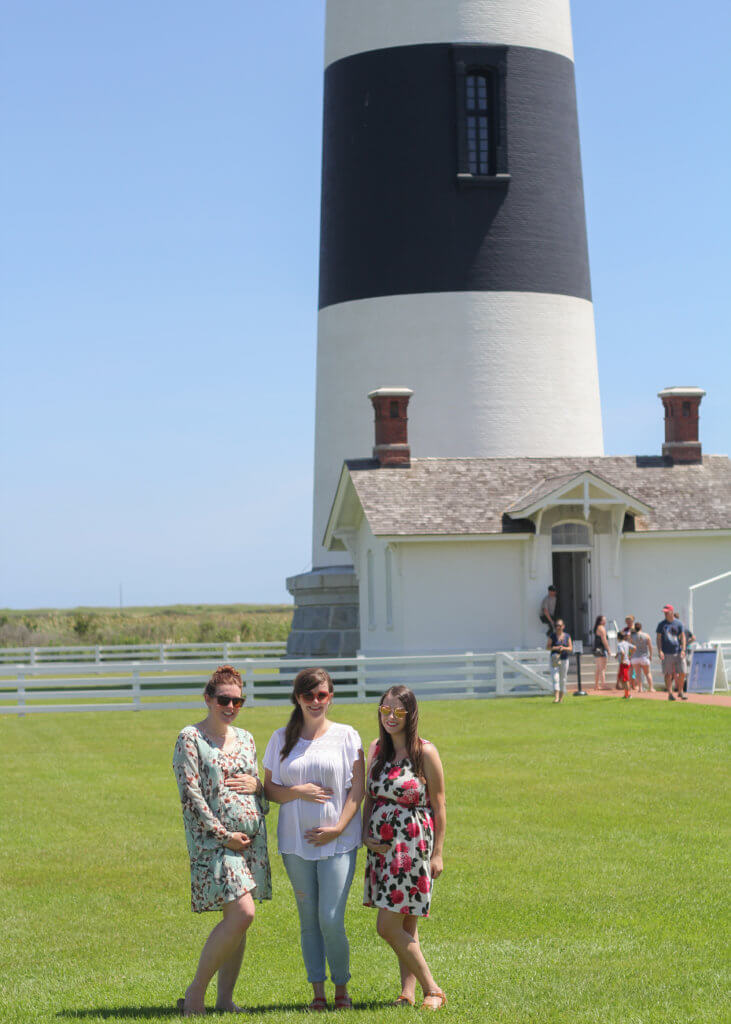 Before our trip, I knew there was a possibility that we'd get a family picture on the beach. But I knew it would be a lot of effort so I didn't really put much thought into outfits. Thankfully I'm really big on lots of blues/greens/grays/whites so I ended up having outfits that coordinated–even though they were definitely pretty casual. Like I expected, it was kind of hectic getting pictures on the beach. The kids were anxious to run around in the sand and there was a massive storm rolling in but we were able to snap a few and get home before the rain started!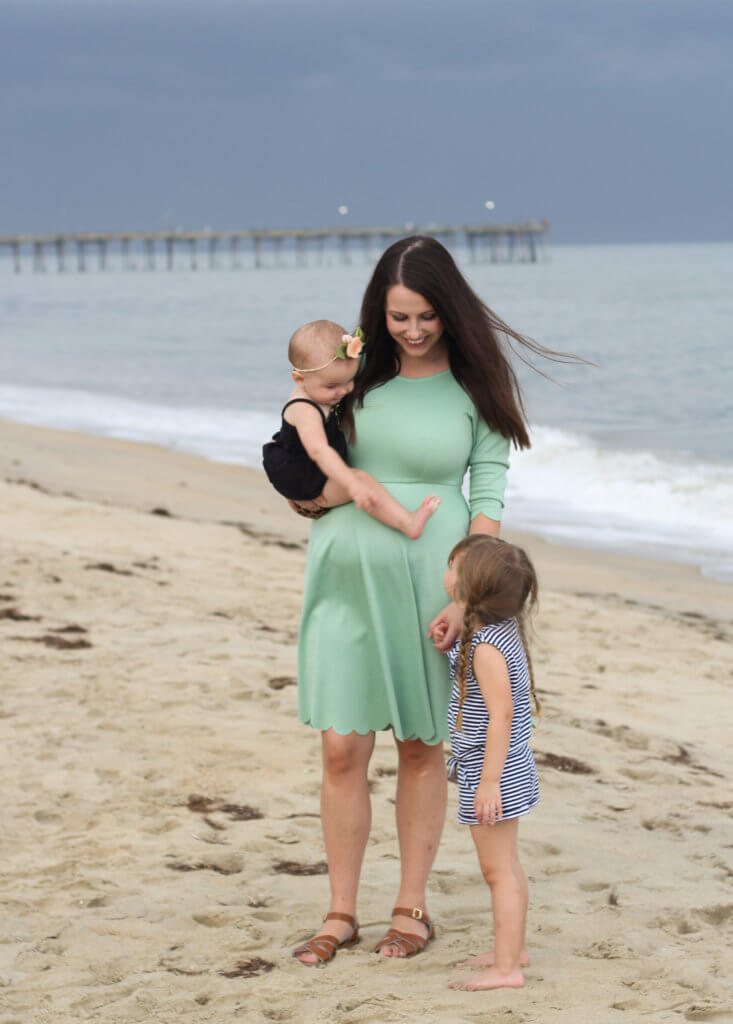 I totally need to print this! I love this crew–squity/blinking eyes and all!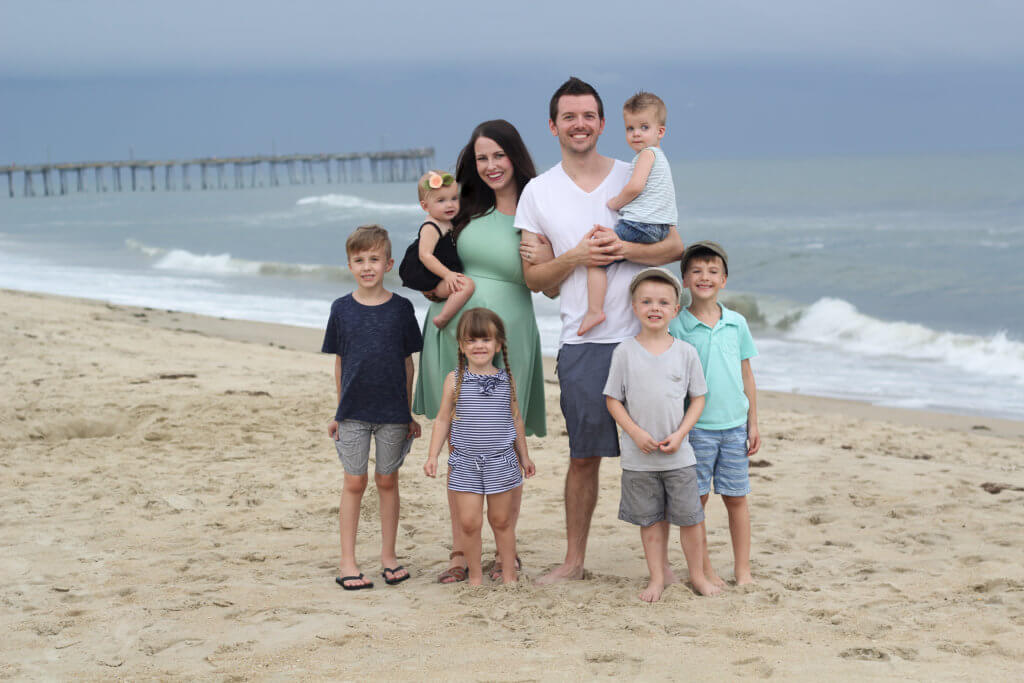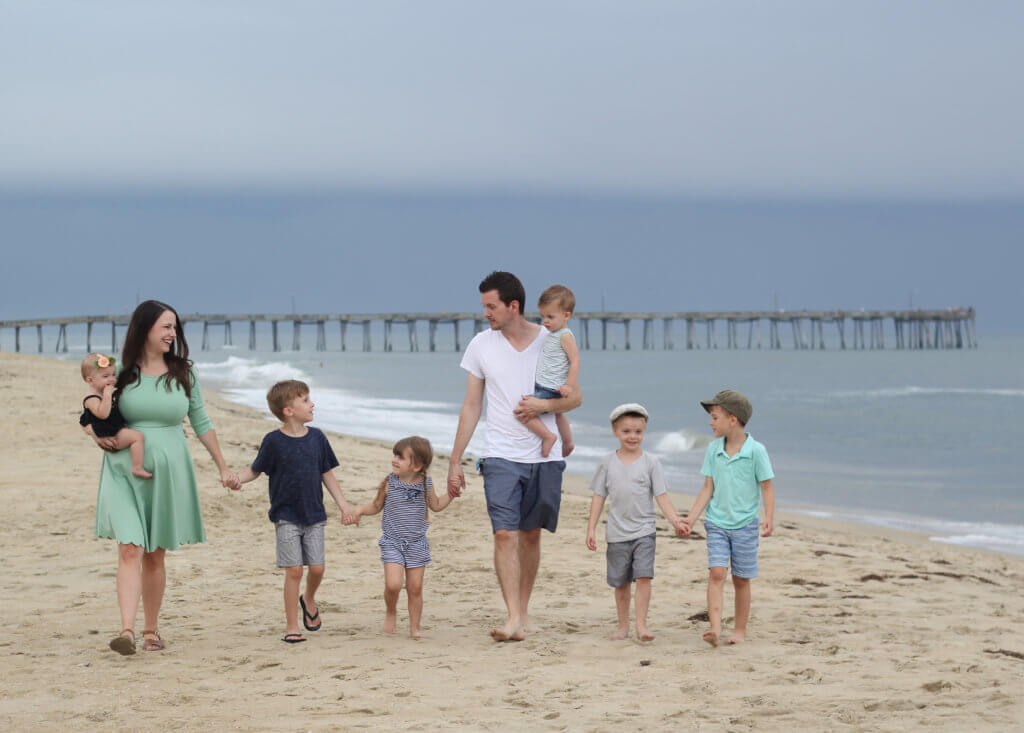 I'm so thankful to Maggi for being able to capture these moments for us!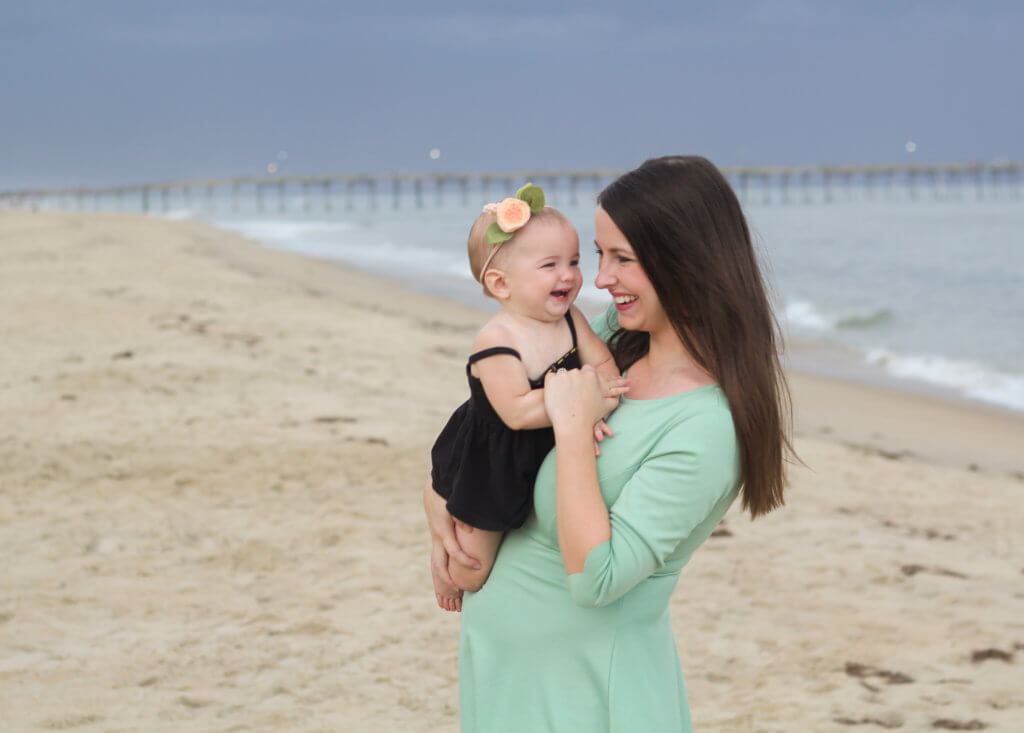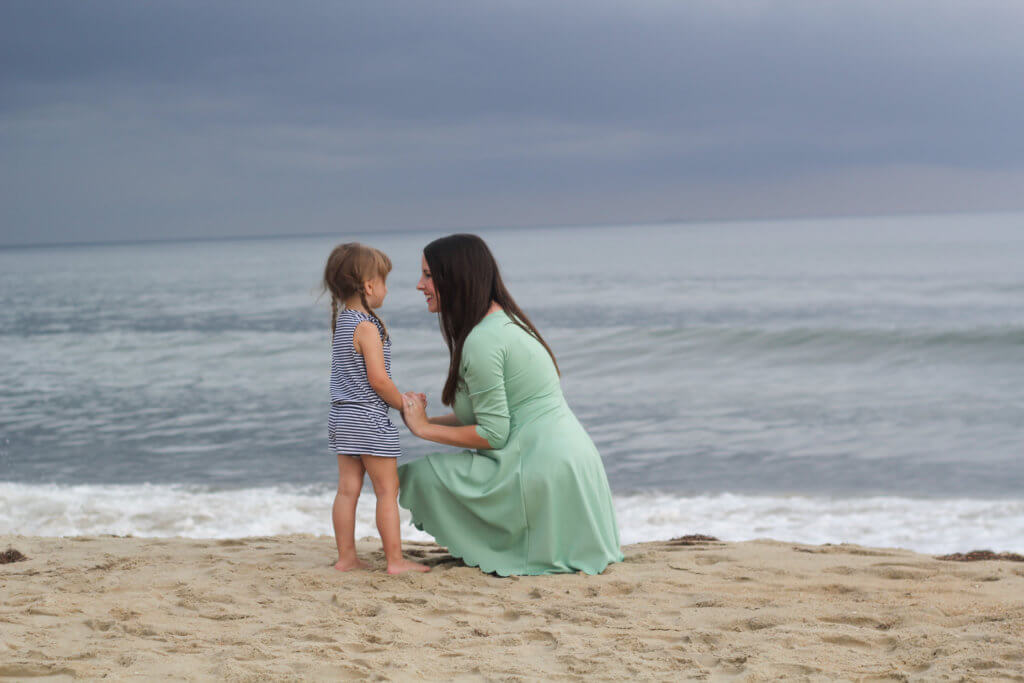 It's hard to believe we've already been home for a week and a half! Today is mine and Don's 10th wedding anniversary!! We're going on a short kid-free trip to the Kansas City area. I'm hoping that this kid free drive (4ish hours) will seem like a piece of cake after the 15.5 hour drive with 6 kids! I'm so excited to have the opportunity to get away, even if it's just a short time. We really don't get this chance often (I hate having to ask anyone to watch our kids for us) but I think it will be great! And then I feel like I'll be able to come back, feeling ready for a new school year (and I'll hopefully have my homeschool post published on Monday.) Anyway, I hope you have a great rest of the week!!
P.S.–Part one of our vacation video is up on the vlog!