If you happened to stop by my blog anytime overnight, you may have seen these pictures already. Long story short, Don was working on some of the behind-the-scenes stuff and accidentally published the post before I had time to actually write anything.
Anyway, I'm finally getting the chance to share the rest of Evangeline's room! I thought I would start out with the picture that we saw in the listing, before we bought the house. The room is not huge and the dark purple made it feel even smaller. The second picture is the "in between" sort of phase with the sloppy bed and broken curtain rod and the last is how it looks now.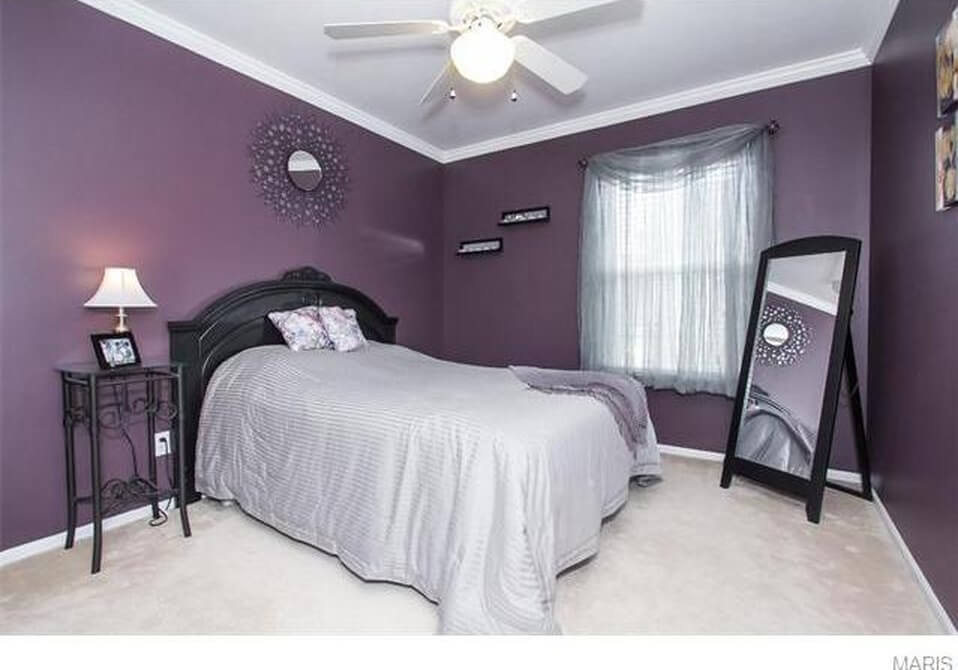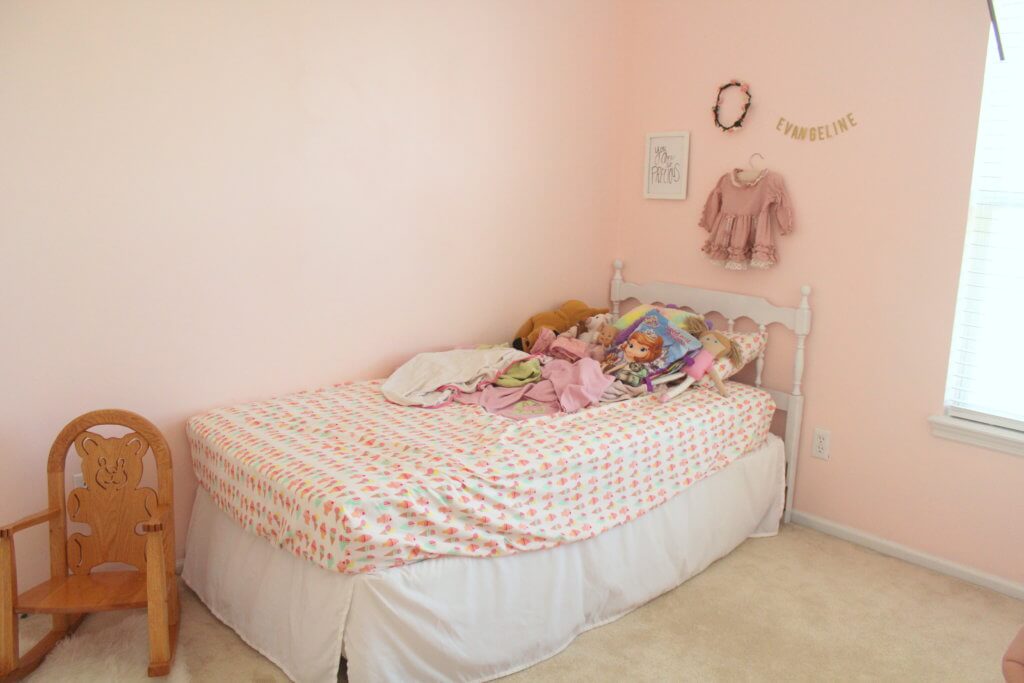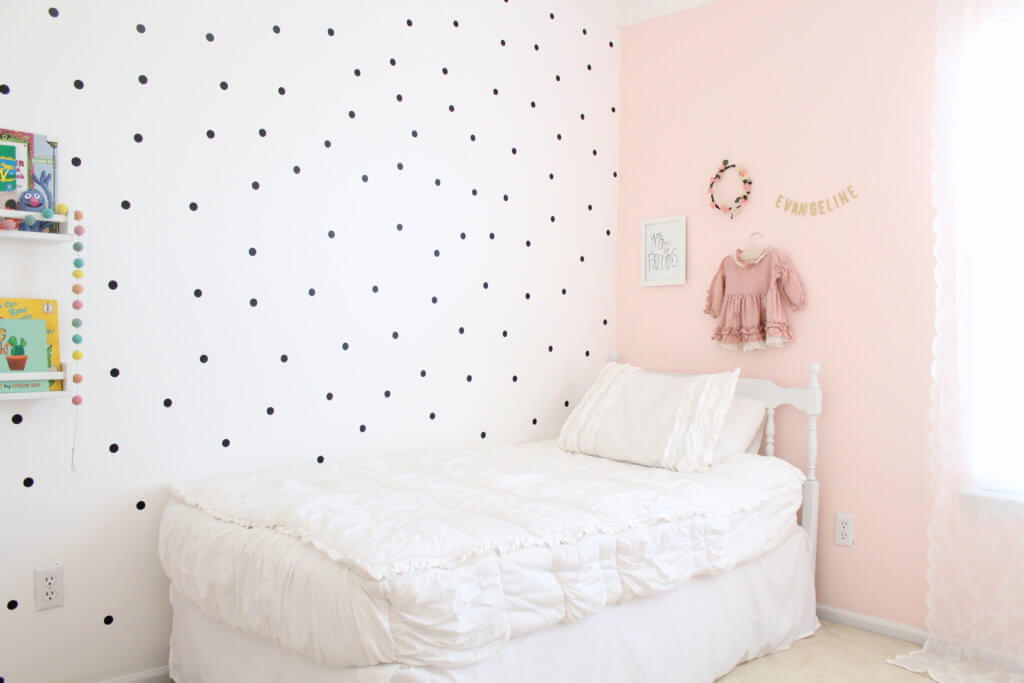 Her room was one of the first rooms I wanted to paint because the purple was way too dark and just not my style. My original plan was to paint the walls white and have black polka dots on one wall. My heart was set on it. But somehow that sweet little 3 year old voice, asking for a pink room, talked me into changing my mind. I never in a million years would have thought I would do a pink room but I had seen some pink walls on pinterest and instagram that I loved, so I thought I could go with it. I picked out (what I thought was) a pale pink and started painting. I quickly realized it was much more saturated than I pictured so I kept adding tons and tons of white paint. It still ended up pinker than I preferred but I was tired of mixing paints.
So we had a pink room. And Evangeline loved it! But I didn't. It felt too overwhelming to have 4 pink walls in one small area. I had a hard time decorating because everything I put in there just seemed like "too much."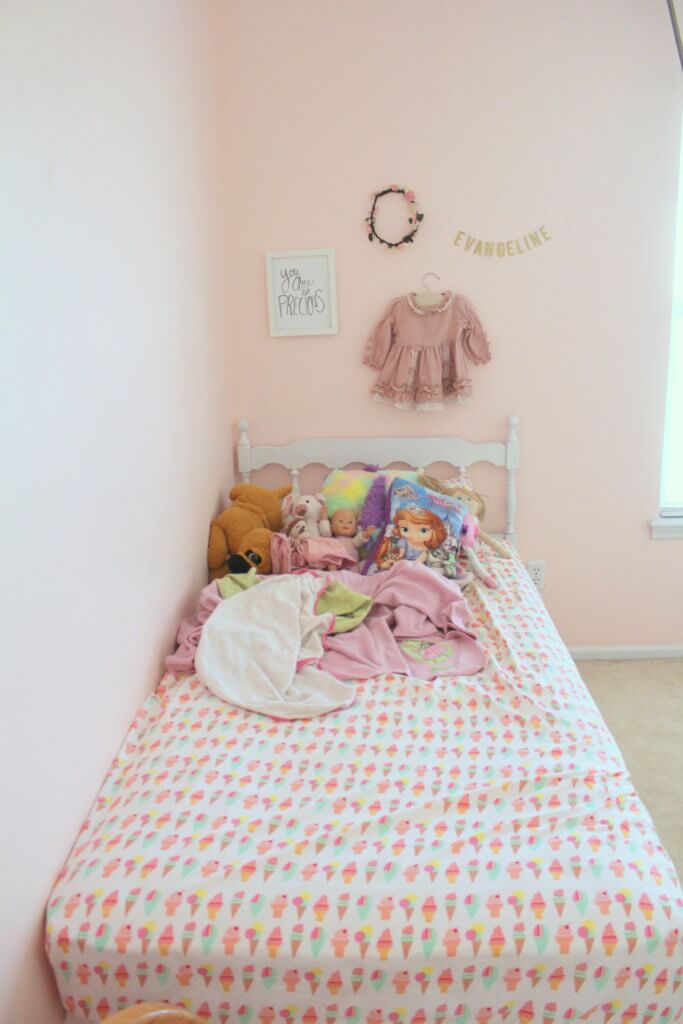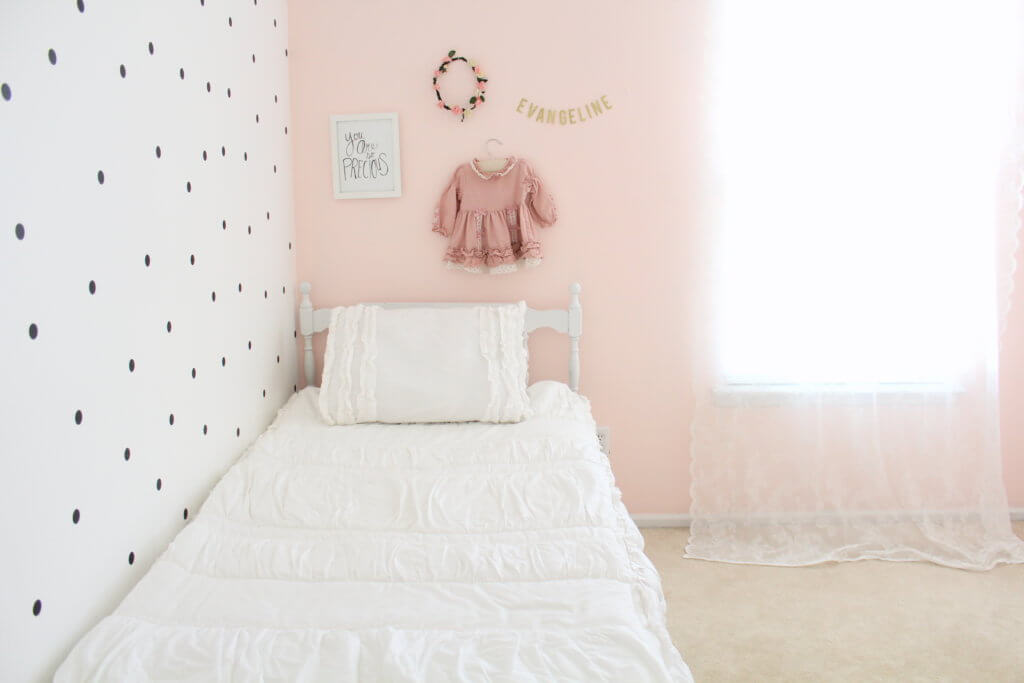 So when Don had his week off back in August, I decided to do what I had been dying to do for months–do my white and black polka dotted wall. Painting one wall was much easier a task than redoing the whole room. So for now, she still has 3 pink walls. But the one white wall makes such a huge difference.
I ordered these polka dot wall stickers (the 1″ size, 180 count sheet.) They were the best price I found. They easily peeled off the sheet and stuck to the wall and I have had no issues with them peeling. I will definitely order from them again in the future if I need more. I liked the more random placement of the dots and seriously finished this wall in like 10-15 minutes. In case you missed the post about her bedding, I got the Chic White set from Beddy's. The curtain is one of Ikea's lace curtains.
A little gallery wall with this adorable print from Redwood Paper Co. I made the flower crown (that is years old now and has seen better days) and the name banner (the letters were from the dollar spot at target!) The dress is just one of my favorites of hers from when she was a baby and I just couldn't stand to pack in away.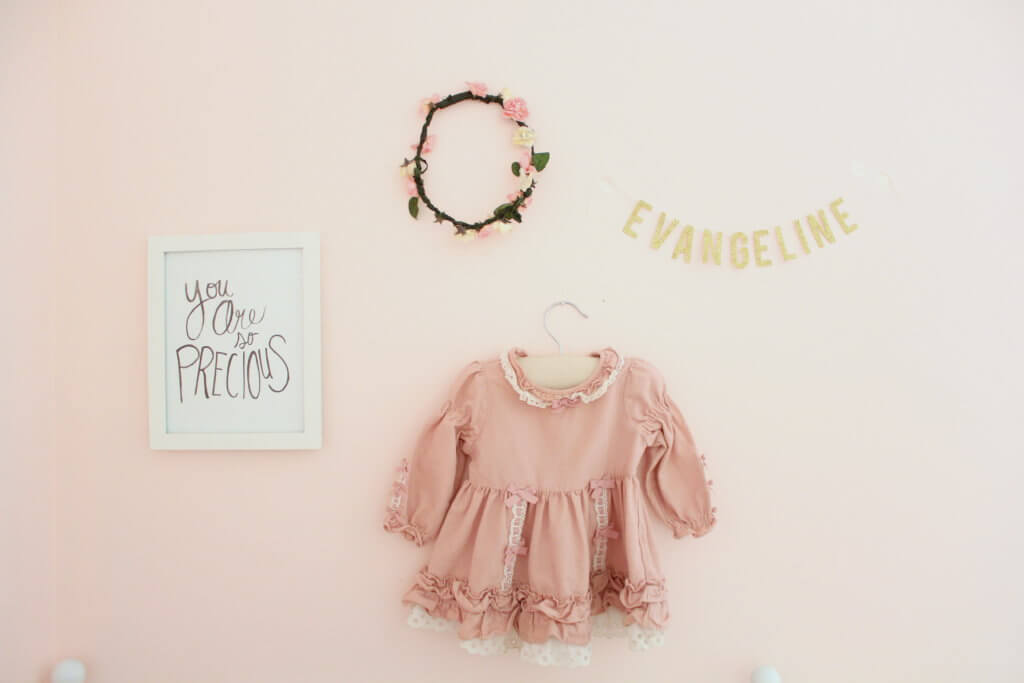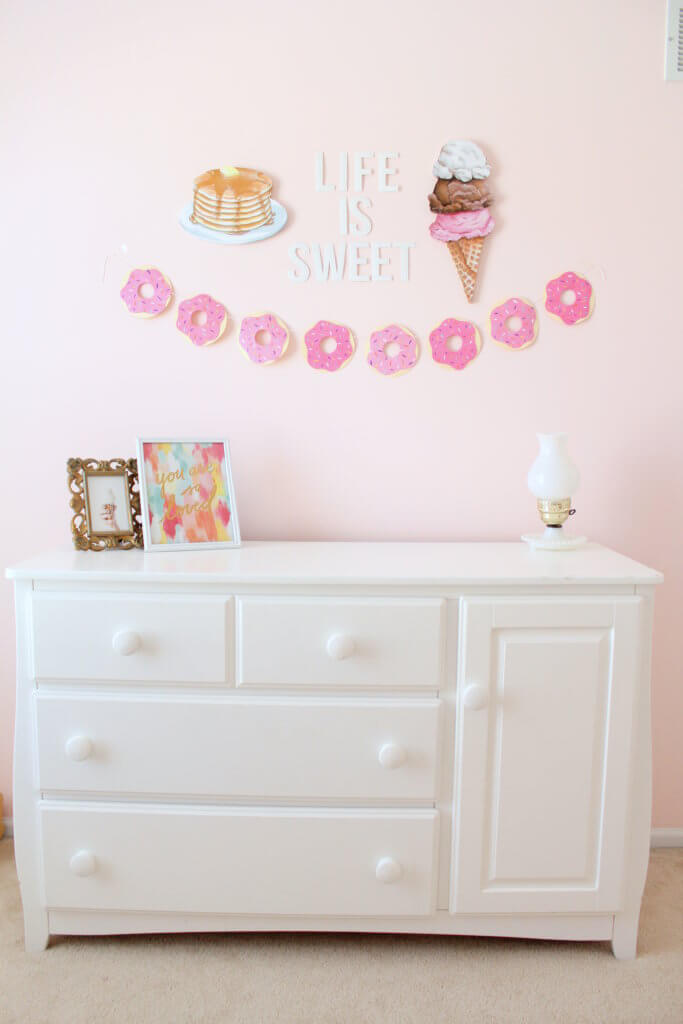 Another little "sweet" gallery wall. I made the little donut banner with some file folders and foam sheets from the dollar store (and just used some acrylic paint I had on hand to do the sprinkles.) But the best part has to be the pancake and ice cream cone wooden diecuts from Everyday is a Holiday. I want so many things from their shop!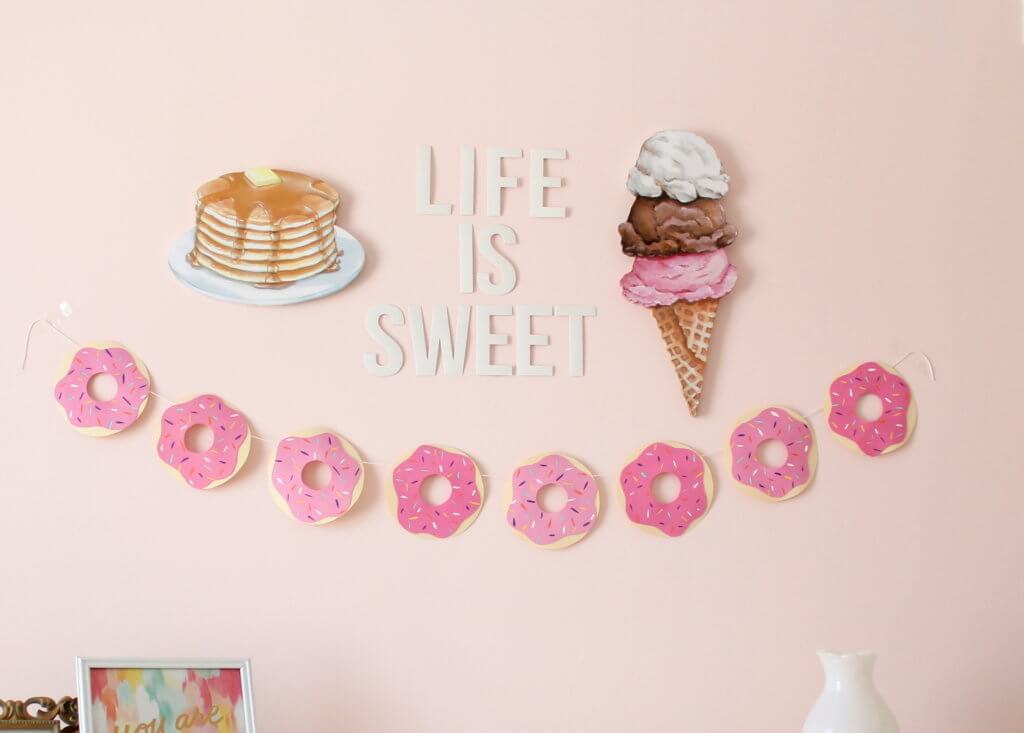 I love this shelf but I still haven't found a way to style it. Someone please come style this shelf for me because my brain can't handle it right now!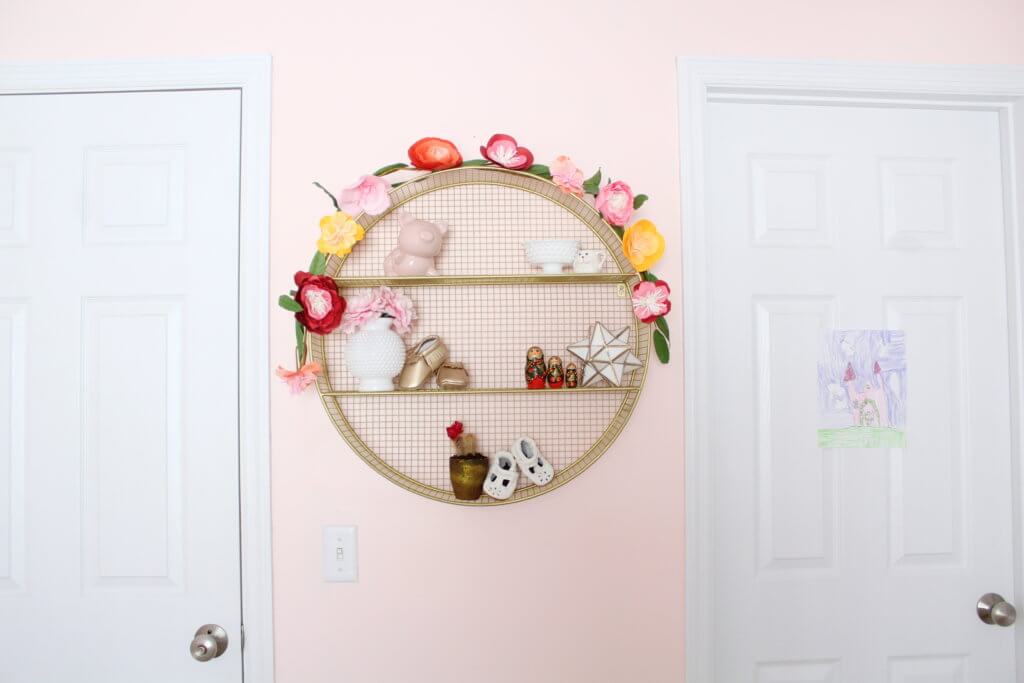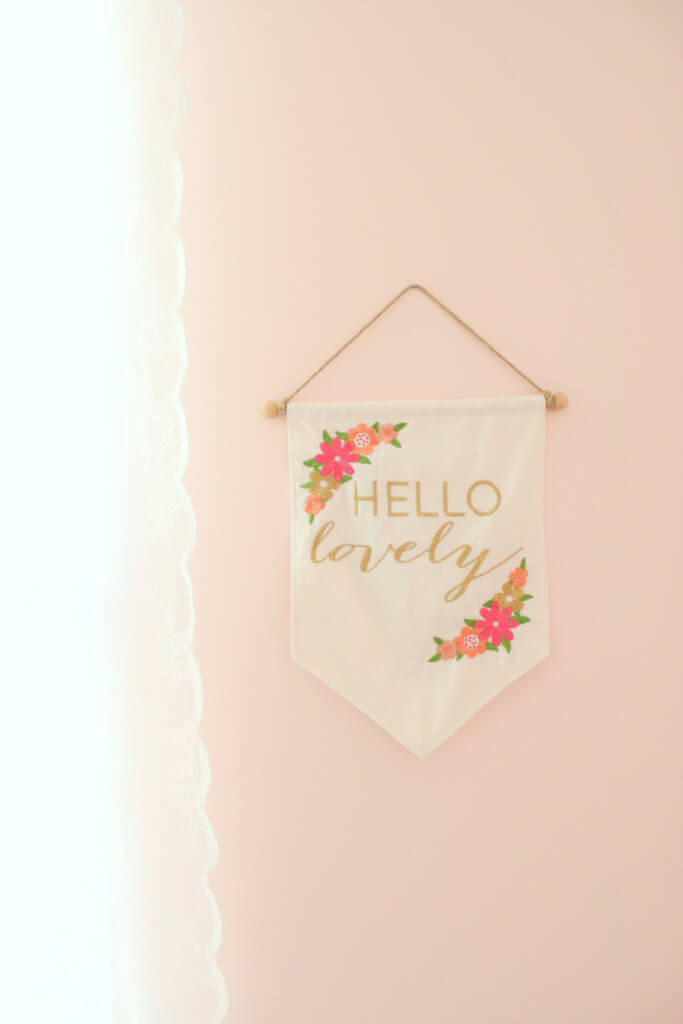 And my favorite part of the room transformation…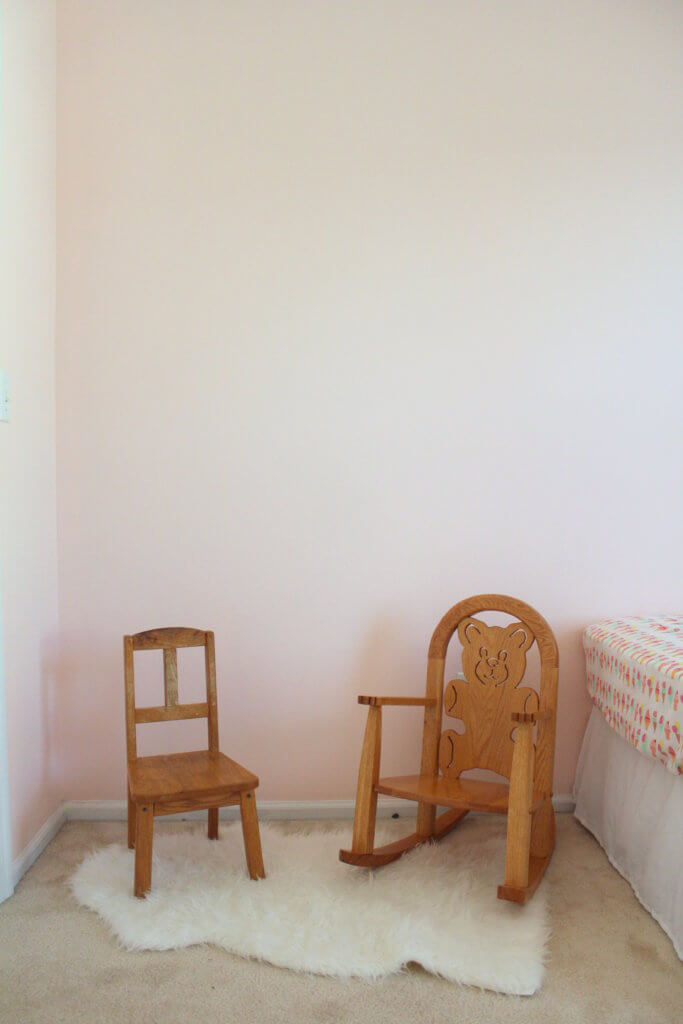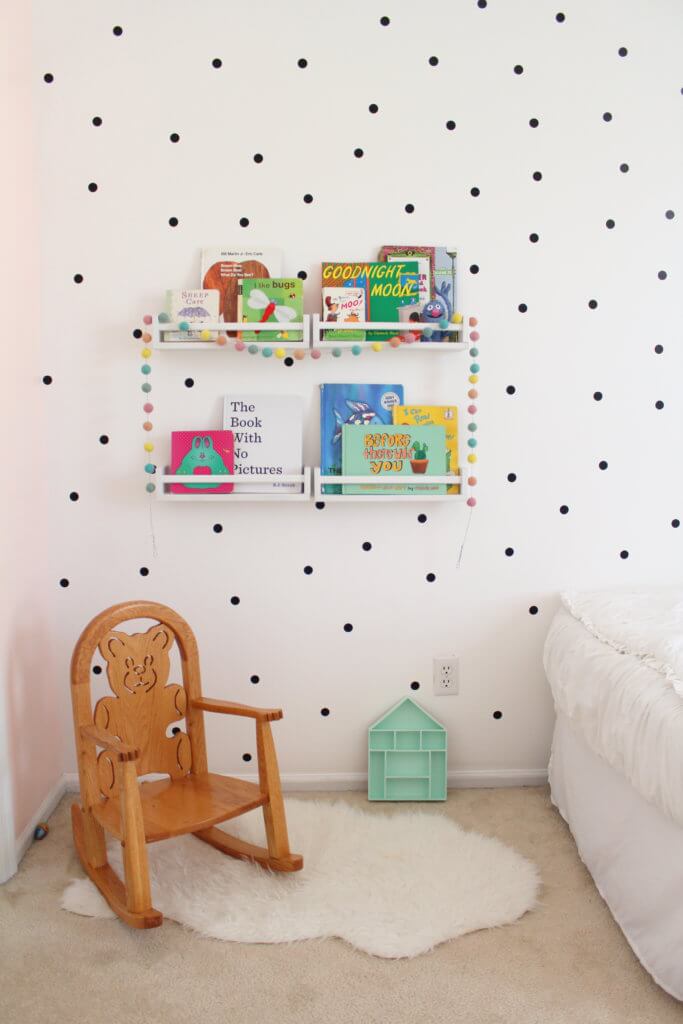 …That apparently had a little nesting doll still hiding on the floor when I took this picture (hashtag: real life.) We did another set of the Ikea spice rack bookshelves in here. The garland is from Hooray Everyday. I love shopping small–not only because of the uniqueness and quality of the products, but all these small shop owners have the best, personable customer service. This nook is easily one of my favorite parts of the house right now. We like to hang out in here and read books during the day.
That's all I have for now! Still things to add–I'm thinking of hanging a few things on the polka dot wall, above her bed. But I'm having such a hard time committing to anything. But this is the way it'll stay until well after baby girl is here!