****Edited to note that when I make our pizzas, the crust is not as thick as the kids made theirs! We do love thick crust–just not THAT thick 😉 The kids even stated they prefer the thickness that I make it. Just had to note that in case you looked at the crust and thought it was way too much!

Like a lot of families, one food we love and eat frequently around here is pizza! I've been asked quite a few times for the recipe I use for our pizza dough. My dear friend, Molli, passed a recipe on to me a couple of years ago and it's been our favorite ever since.
I am horrible at writing out recipes, so bear with me, but I thought I would pass it along to anyone who is looking to try a new recipe. If you like thick crust, you'll probably love this! And the added bonus is that it's so super easy to make and memorize! I never have to pull out a recipe card!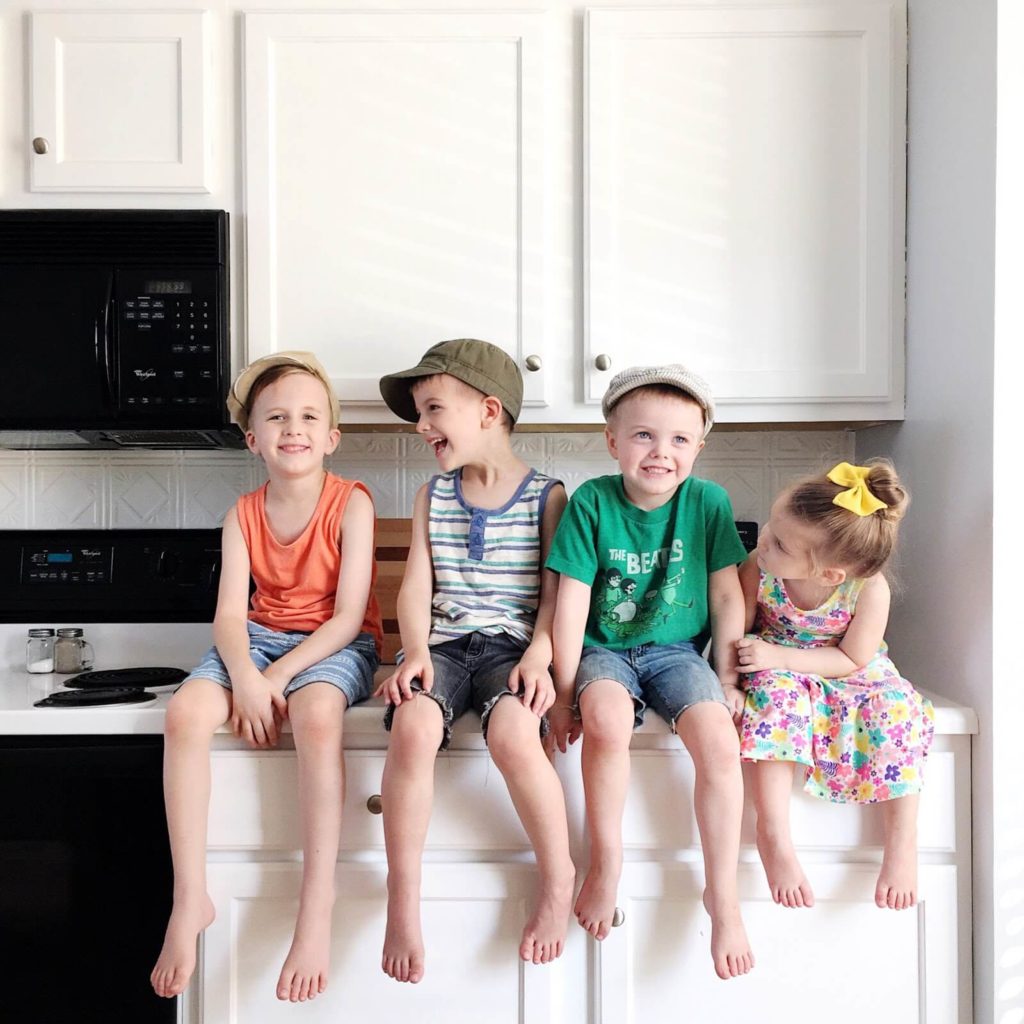 We had a little family pizza night last week. The kids helped me make the dough and then they made their own pizzas. They absolutely loved getting the chance to make their own dinner. It's one of those things that I need to work on–letting them help out more. Most of the time I'm just wanting to get dinner on the table, not wanting the extra work of 4 little helpers. But it is so worth the extra time and mess! They were so proud that they made dinner that night. We made a video of our family pizza night and it seriously makes me (and them) so happy! Check it out at the end of this post!


Our favorite pizza crust recipe:
Whisk together and let it rest for a few minutes until the yeast starts to foam. 
Knead with the dough hook attachment with your stand mixer (if you don't have one, you can knead with your hands–it just takes a little extra time!) until the dough pulls clean away from the sides of the bowl. Then knead for an additional 5-6 more minutes. The dough should be slightly sticky but should not completely stick to your hands when you touch it. 
Coat a bowl with oil or cooking spray. (Put a little on your hands as well to avoid a mess!) Form the dough into a ball and place into the bowl, flipping once. Then cover with a towel and let it rise for about 45 minutes, or until doubled in size.
After the dough has risen, uncover and gently punch it down. Then form the crust. 
This recipe allows me to make one (pretty large) thick crust pizza. We usually double the recipe and get 3 medium pizzas. Top with sauce, cheese, and whatever other toppings you would like and bake for about 10 minutes at 500 degrees, or to your preferred done-ness 😉 (Is that even a word?)
*I use the big bags from Sam's so I'm not positive how many packets you would use if you go that route
**With all dough recipes, it's always smart to start with a little less flour than what is called for. Differences in humidity, altitude, etc. can affect how much flour you may need. So you could end up using a little more or little less. But it usually ends up being about 2 1/2 cups for me.
I don't often write out recipes for anyone so I apologize if there is any confusion anywhere. But if you have any questions, feel free to ask!
And as promised, our pizza making vlog!