About a year and a half ago, I wrote an unsponsored Tubby Todd review. I had just discovered Tubby Todd the week before, and though I was skeptical, I decided to try out their All Over Ointment to treat Desmond's eczema. After trying so many products over the years with little to no results, I was amazed at how well it worked! Now that I've been using Tubby Todd products for the past year and a half, I decided it was time for an updated opinion. (Spoiler alert: I love it even more now!)
This is yet ANOTHER unsponsored post. They didn't ask me to share another review. But I wanted to share again because I've been amazed again and again by the results and needed to share with anyone who missed it the first time around. So if you want to know more about how we got the results from these before and after photos, keep reading!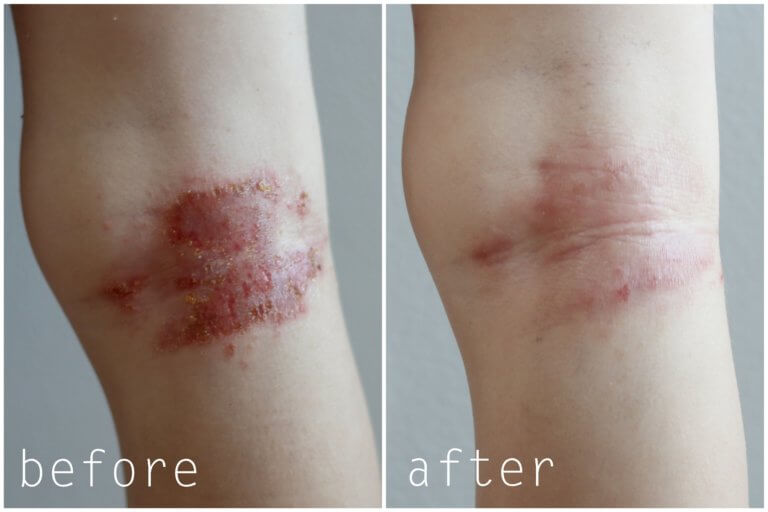 ***I want to note that the lighting was different on the two days that I took these pictures (about a week apart) but I did not exaggerate any results with editing.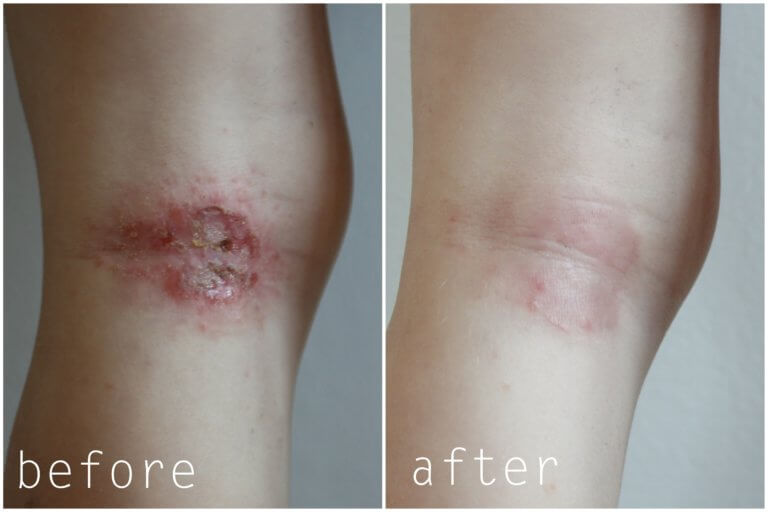 The backs of Desmond's knees are his current "problem area". When I don't stay on top of it, they get really bad…as you can see in the pictures. I made a big mistake and misplaced our Tubby Todd when we packed for vacation back in August. And after over a week without treatment, Desmond's legs were looking really horrible. You can't see it very well in the pictures but his skin was open and had yellow scabs. I felt horrible for the poor guy because he was miserable. The worst part is that I knew it was my fault and that it could have been prevented if we had stayed on top of things.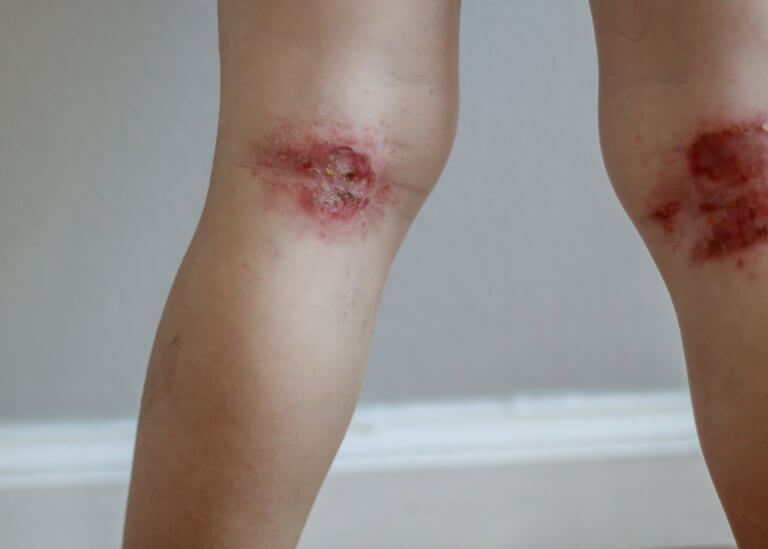 (P.S. Desmond has become a pro at these leg shots. I'll ask him if I can take "Tubby Todd pictures" and he runs to the wall and turns around haha)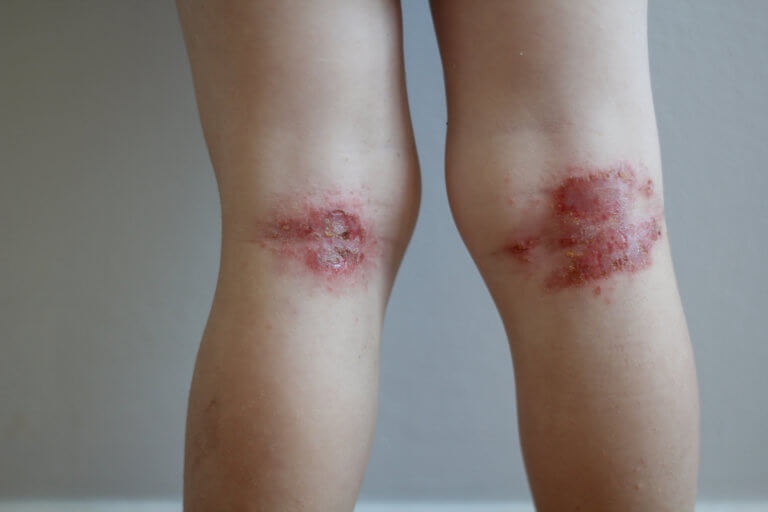 I know it's going to sound like I'm contradicting the point of this post, but when his skin gets this bad, I usually do one or two applications of our prescription steroid, followed by the Tubby Todd All Over Ointment. I really don't like using the steroid but it does work quickly when the skin is open like this. When the skin is less severe, I won't use the steroid at all. So in this particular case, I applied a tiny bit of steroid and then the Tubby Todd. And repeated that evening. The rest of the week, I only applied Tubby Todd once or twice a day, as I thought about it. His skin was being a bit more stubborn than usual, so it took us more like 7-8 days to heal instead of the usual 4-5 days. But the results were amazing, like always!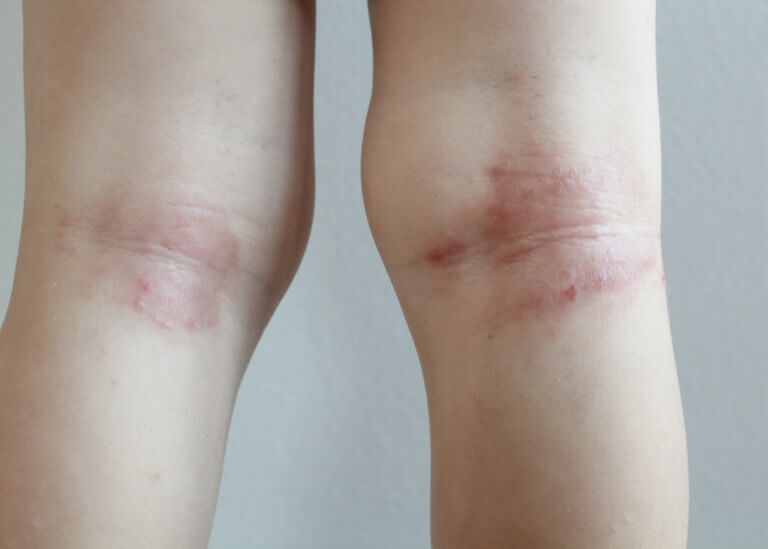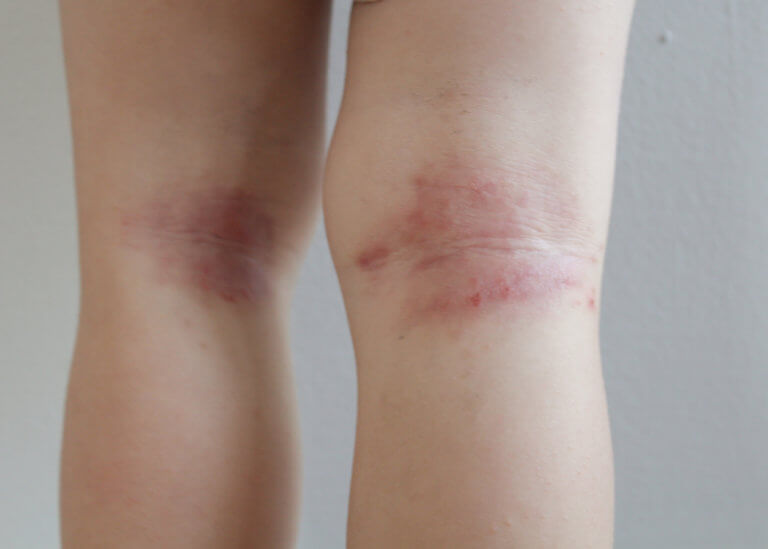 You can still see redness (as you would with any healing wound) but his skin was soft and not itchy anymore. You guys, this is why I'm obsessed with this stuff. I had tried so many products over the years that friends and pediatricians had recommended, and we never saw results at all. It feels so good to know that there is something that can heal my babies' skin. In my opinion, this really is the best natural cure for eczema. All their products are clearly sourced, clean, animal cruelty-free, and all-natural (you can find their ingredient list HERE). So I can feel good about what I'm applying to their skin and I don't have to worry about what I'm putting on their bodies.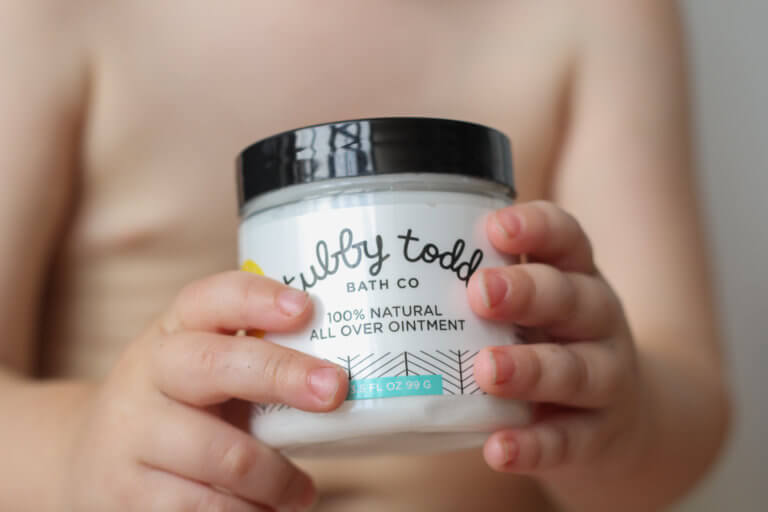 We use the ointment for so many things and have personally seen success in our family in treating diaper rashes, other types of rashes/burns, baby acne, and cradle cap. We have gotten amazing results! It has gotten to the point that the kids request it for their "boo boos" more often than bandaids. Bandaids hold some sort of magical power when you put them on–instantly healing the pain. In our house, All Over Ointment is the upgraded version of bandaids.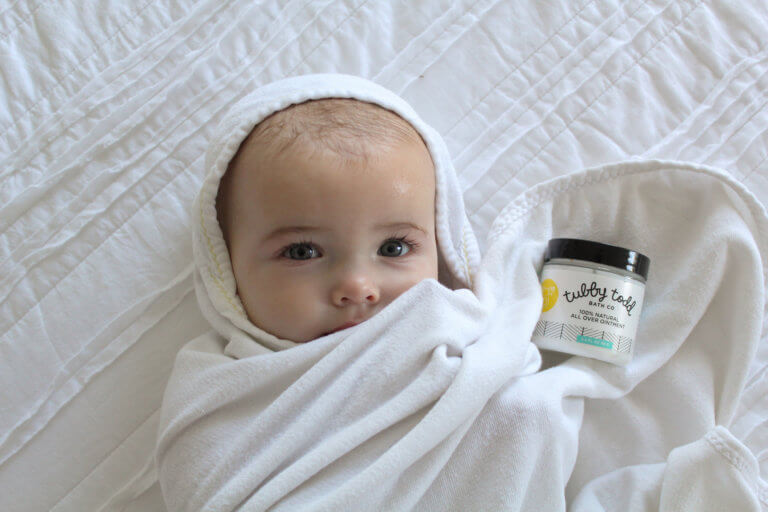 Shortly after we were introduced to the All Over Ointment, we started trying the other Tubby Todd products. I'm not even kidding when I say that I have fallen in love with everything we've tried!
We have been using the hair and body wash and bubble bath at each bath time. Now the 4 oldest kids, who were still having occasional bouts of eczema, don't have any more patches. It's all we've ever used on Clementine's skin and I know Don would agree with me that her skin is the best out of all the kids. She does have some eczema patches because our genetics are awesome like that. But her patches are extremely mild and not even red. All the other kids had cracked, bleeding skin at this age. (You can see a picture of Evangeline around Clem's age right HERE rockin' a lot more hair and a lot more eczema.)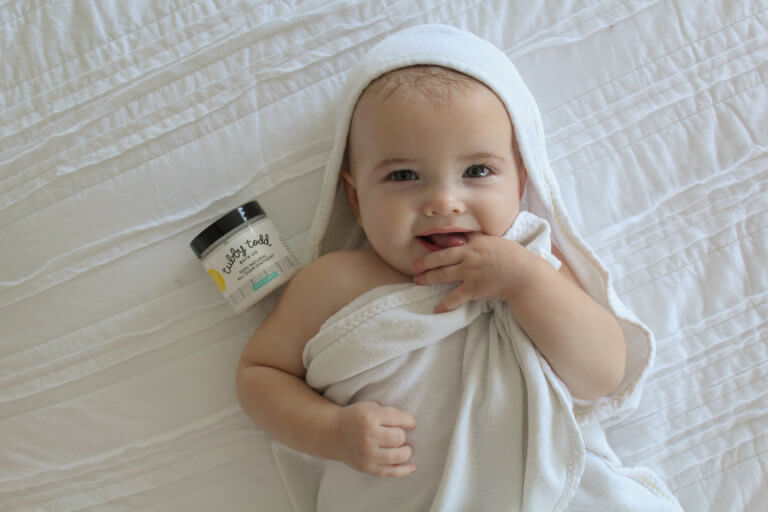 I even started using the body wash because I deal with keratosis pilaris on my arms and legs and my skin is so much smoother. Every time I switch back to our normal body wash, the bumps start coming back. All that to say that we love it (especially in the extra tubby size.)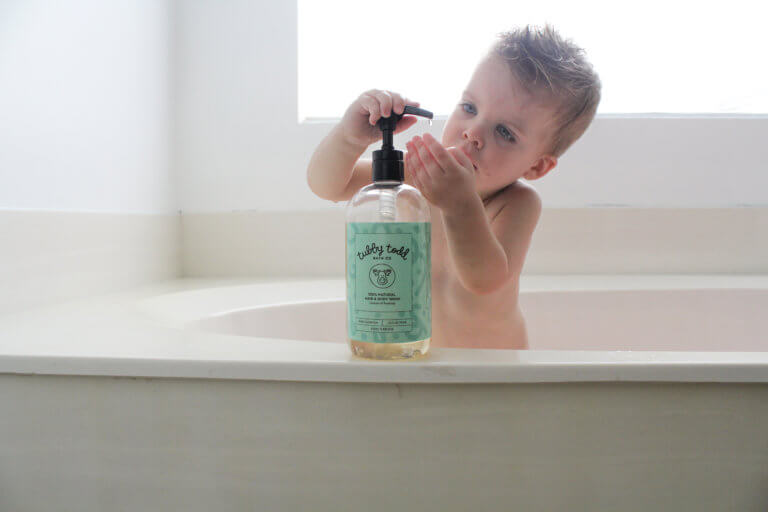 That's it! Really, all we've done is switched our normal bath products to Tubby Todd and use the All Over Ointment as a spot treatment. That's all it has taken to improve the skin in our family. I know that a lot of people say that eczema is often the result of a food allergy–and maybe that's true. But I really don't have the time (desire?) to cut out different things from our diets to see if there is any improvement. I'm more than happy to stick with what is working for us right now.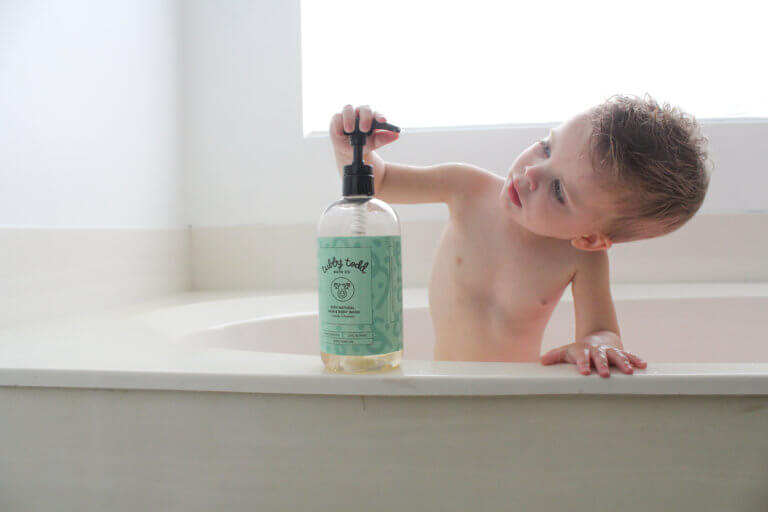 (Spoken with an infomercial voice) BUT WAIT! There's more!
Tubby Todd recently came out with conditioner and detangler! I had been going without conditioner for Evangeline and using Suave detangler. It felt wrong to be using it after washing her hair with Tubby Todd, but I felt like I had no other choice. I was so excited when they released these two products.
A friend asked me to give my honest opinion and I really have loved them 100%. There are no tears when I brush her hair and she doesn't even request to play games on my phone anymore (she used to use my phone as a distraction from the pain of getting her hair brushed.) I wouldn't even add this little tidbit to the post if I wasn't completely in love with these products but I had to add it in here. They smell like lemon (we like to say her hair smells like lemonade.) It's not overpowering. It's just the perfect, light scent.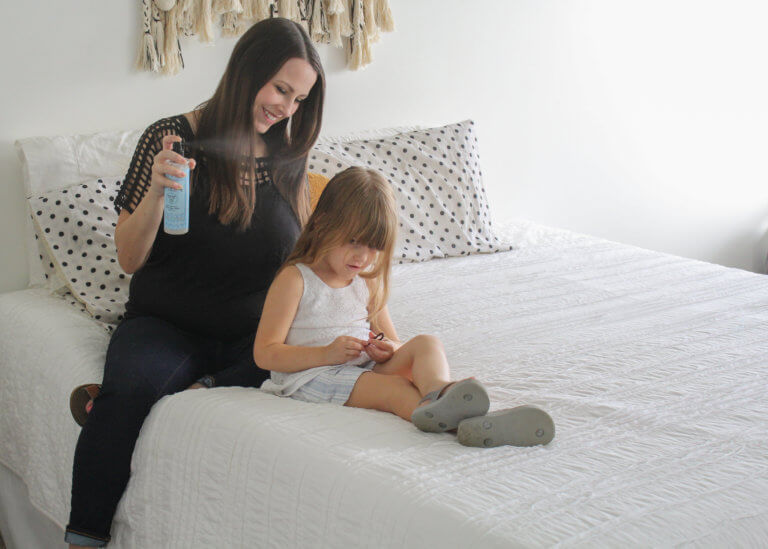 I know a post like this can sound salesy and over the top. But as I mentioned, this post was not sponsored in any way. I wrote this post because it has helped us so much that I felt like it would be wrong not to share with all of you. Andrea (creator of Tubby Todd) began her company as a natural solution to solve her family's skin issues. And I truly feel like she works hard to make sure every product they release is 100% the best quality. If you're interested in trying anything, you can sign up for their newsletter to get 10% off your first purchase. You can also follow them on Instagram to watch for sales and giveaways. Or join the Tubby Todd Mamas facebook group for the first chance at discounts.
***editing to add–Andrea was so sweet to reach out and offer a discount to all my readers! You can use the code RAISINGROBERTS to get 10% off your order through October 24th!
If you have any more questions about eczema, things we've tried, or the other products on their site, feel free to ask! I've tried just about everything from the baby and mama lines! And always, thank you for reading along with all my rambling!