Today I'm teaming up with Pinkblush to share a bumpdate and a few fun fall looks! Make sure you make it all the way to the end because I'm also sharing a discount code AND a giveaway!
I'm not quite sure how it happened so quickly, but as of last week, I'm officially in the 3rd trimester! It's really hard for me to believe that I'm 29 weeks today. I'm sure part of it has to do with the fact that I'm busy taking care of 6 other children. But I also think it helps that I have been feeling so well this pregnancy. Instead of longing for the pregnancy to be over, I'm able to just enjoy the present.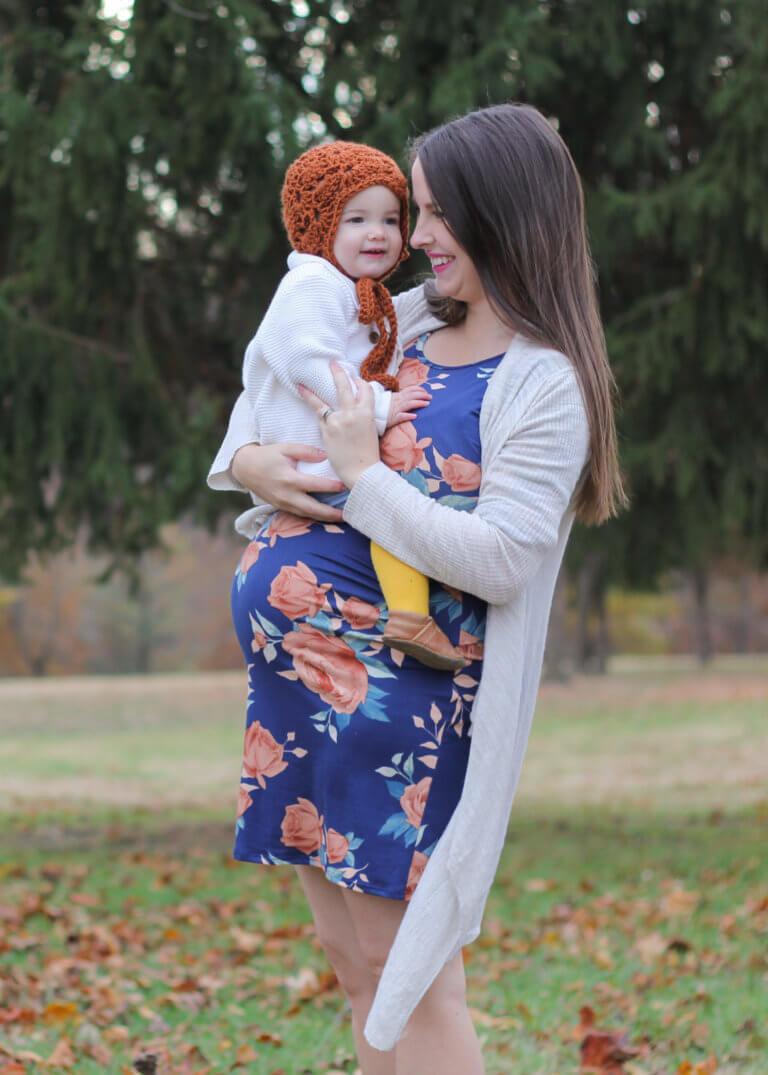 Besides a few minor aches and pains that come occasionally, plus the addition of my big ol' belly, I honestly don't feel pregnant most of the time. And because of that darn anterior placenta, even her precious movements are hardly noticed. I will admit that it makes it very hard for me to "connect" with this baby. I don't think it has actually hit me that she will be joining our family in 11(ish) short weeks. But I've experienced that lack of pregnancy bond before and I know that the moment I pull the baby out and place them on my chest, the connection is instant. So I'm not too worried about it right now.
One of my biggest struggles this pregnancy has been self image. My appetite has been out of control this time around and consequently, I have gained more than I have in the past. I try to remind myself that pregnancy is a gift and it's beautiful no matter what…but you try telling that to someone with the emotions of a pregnant woman. It doesn't always help me feel better.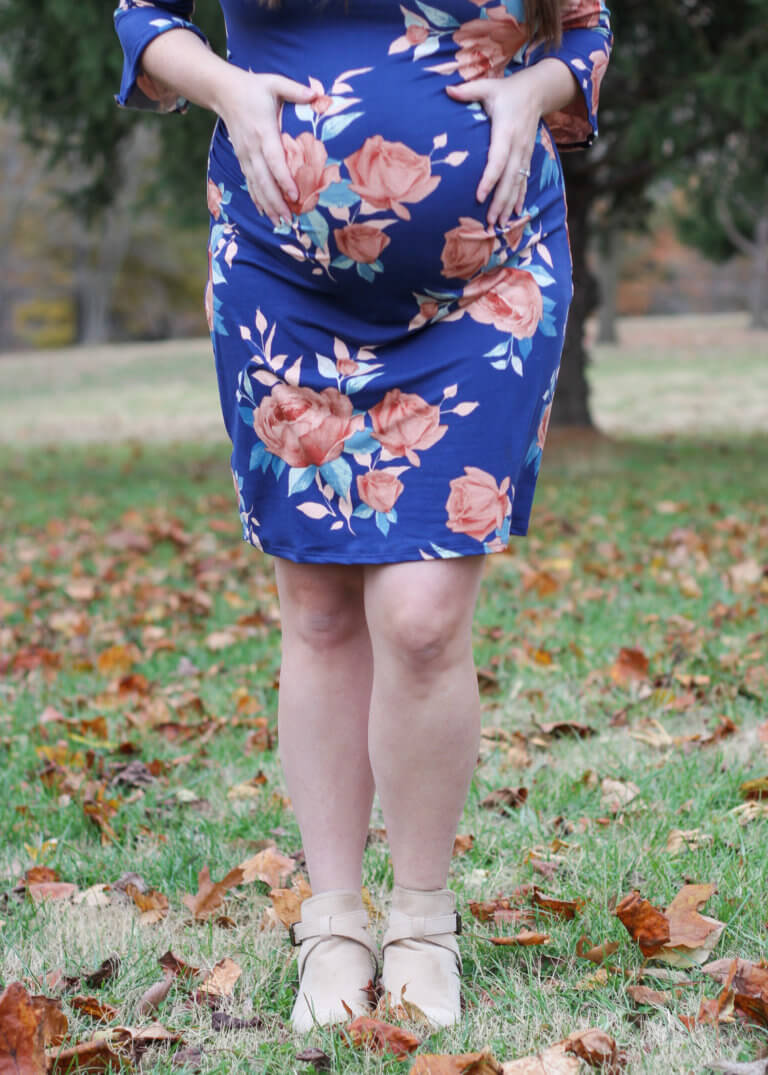 During my last pregnancy, I discovered Pinkblush when I did a collaboration with them. I fell in love with their shop and ended up purchasing more items throughout the pregnancy. I love that their clothes don't scream "maternity." And many of the items I've gotten can be worn postpartum too..which is especially great during the weeks/months your body is transitioning to its new normal.
This time around I've had the opportunity to work with them again and it's just one of those companies that I love working with because I truly do love what they have to offer and I feel good about recommending them to others. Their clothes help me feel better about the way I look, even when I do feel so huge.
I wanted to share a few items that I recently got, starting with this navy floral dress. This is one of the first fitted dresses I've worn this time around. The fabric is the softest thing ever and the sleeves have a slight bell shape at the elbow. And I love that I can still wear floral in the fall with this style!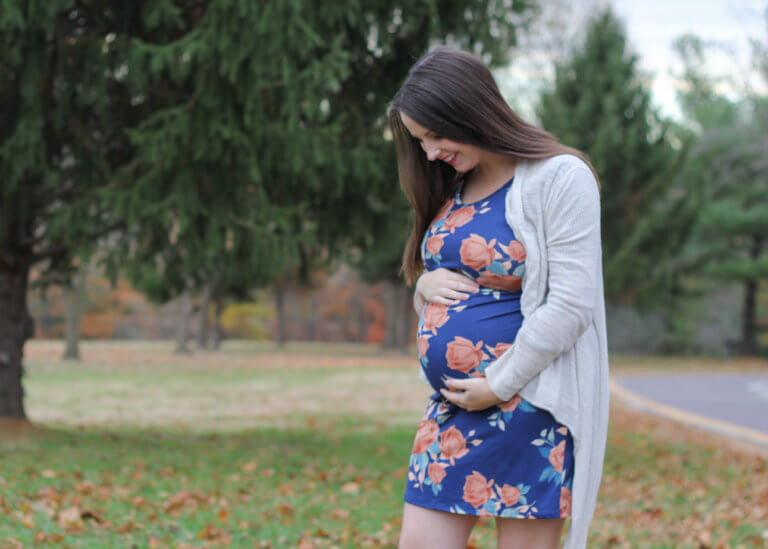 **p.s. I totally had to add the picture below. When we went to the park to photograph this dress, the kids were running around and playing. Kai came over to give me a hug and kiss my belly and somehow that turned into an impromptu group hug. I was cracking up because even Desmond and Clementine ran over to hug me. I'm pretty sure Clem was mainly just jealous that I was hugging everyone else haha. But I think everyone is pretty excited about their new baby sister.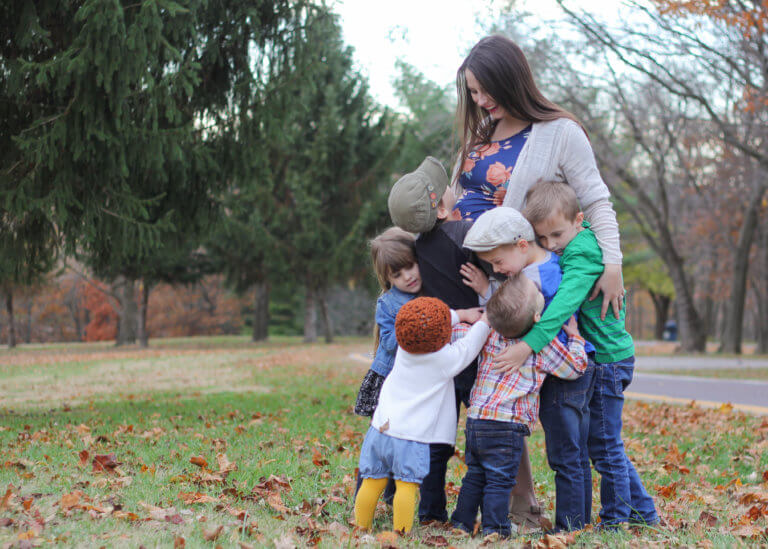 This black floral dress that I'm wearing in these next pictures (photographed by my friend, Stephanie) is a looser fit and so comfortable for someone who likes to feel like they're wearing jammies all day 😉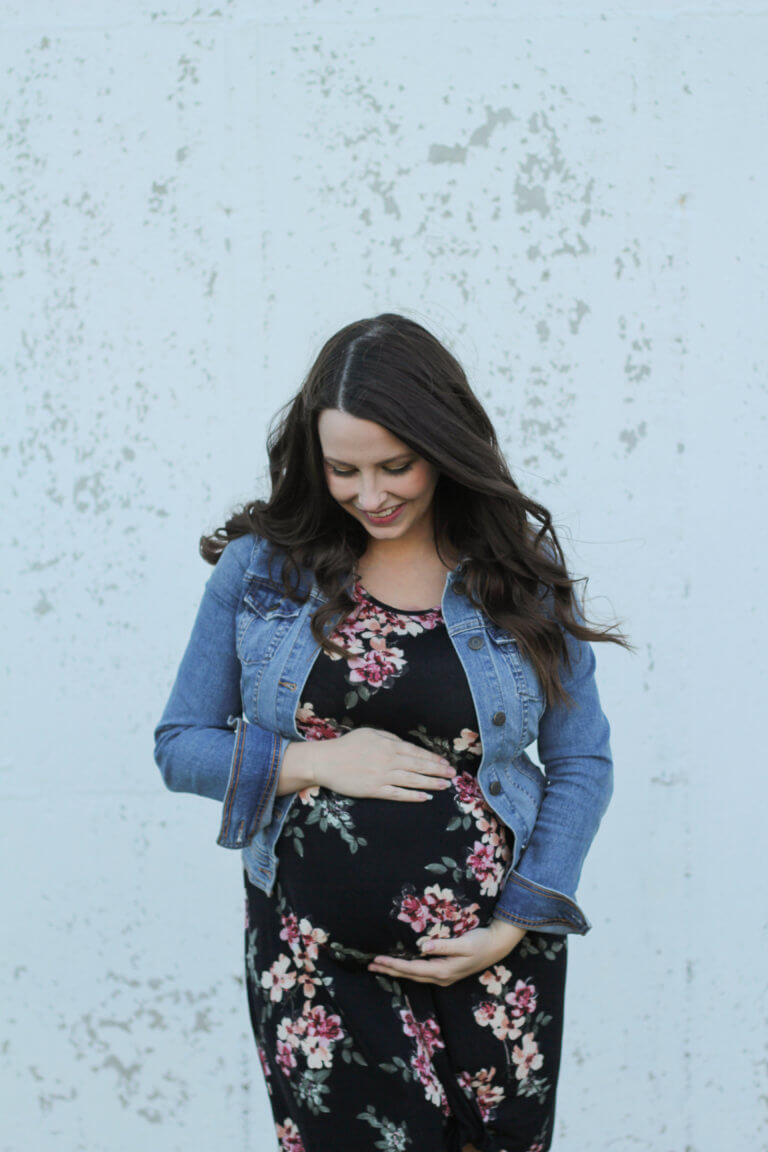 I paired this dress with a non maternity denim jacket that's getting to be a bit too snug. But I love the way the floral looks with the denim!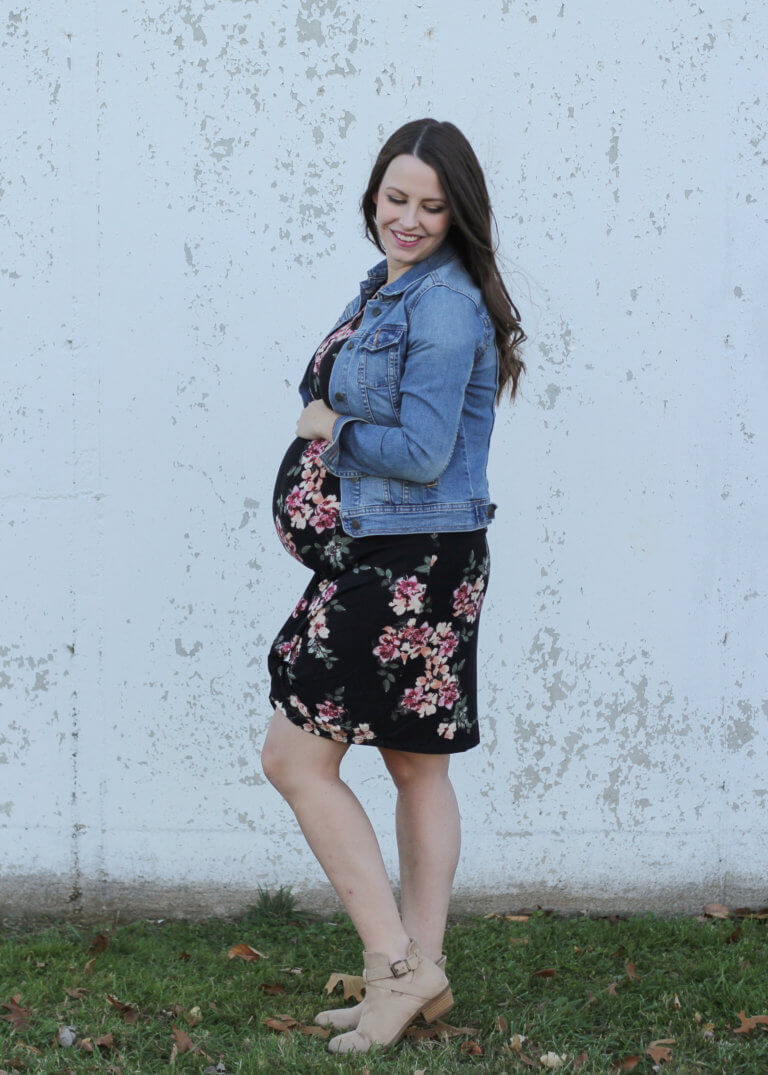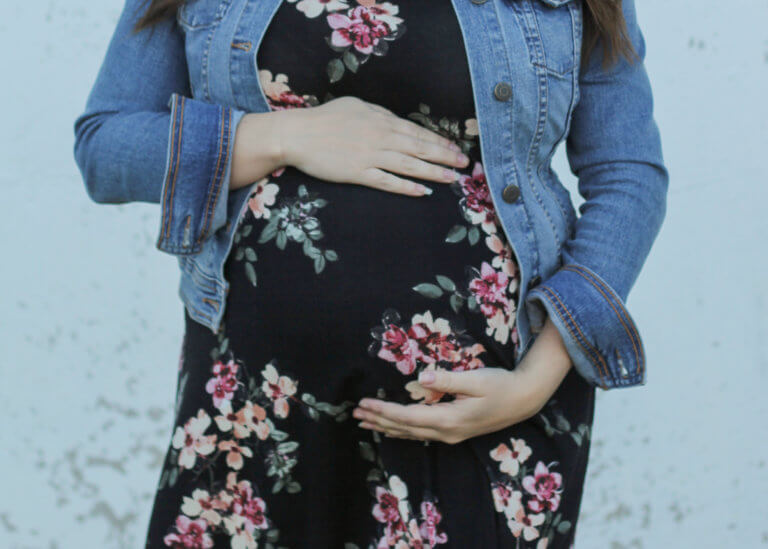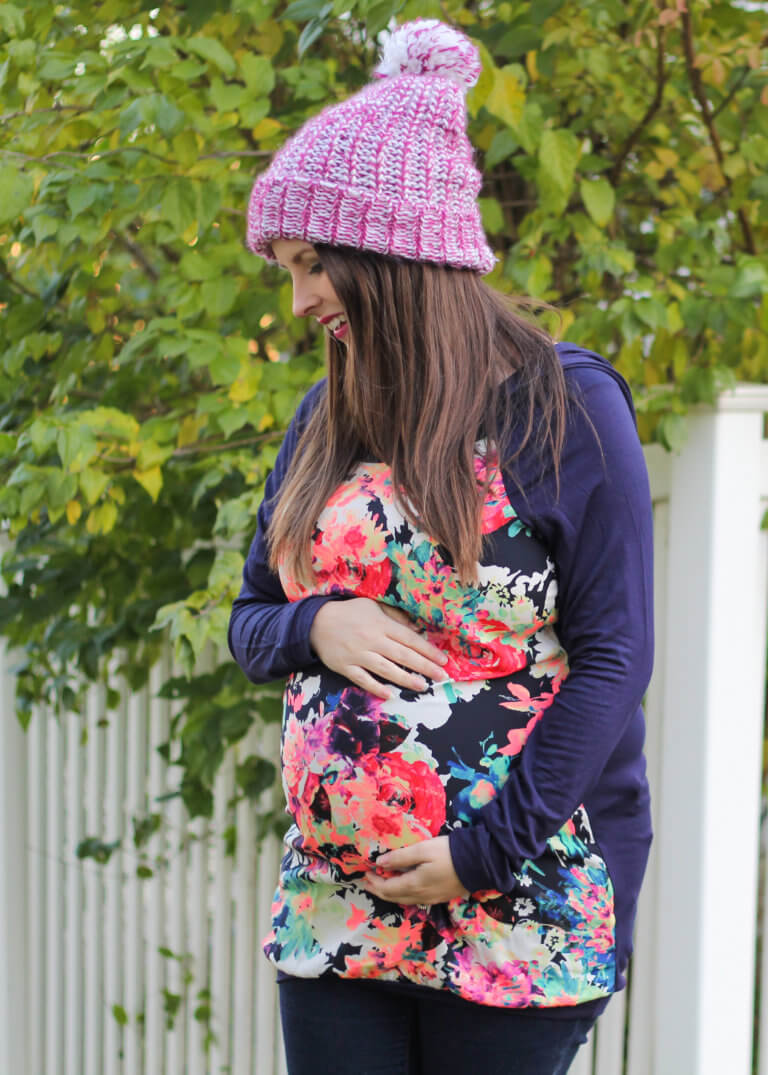 And finally, this floral hoodie! I was kind of apprehensive about wearing a hoodie during pregnancy. I was afraid it would make me look way bigger than I already am. But after trying it on, I actually loved how it fit and how comfortable it is! If you can't tell, comfort is a BIG deal to me during pregnancy. When your body is already uncomfortable enough on its own, you don't want your clothing adding to that. I love that Pinkblush makes clothes that are comfortable and cute.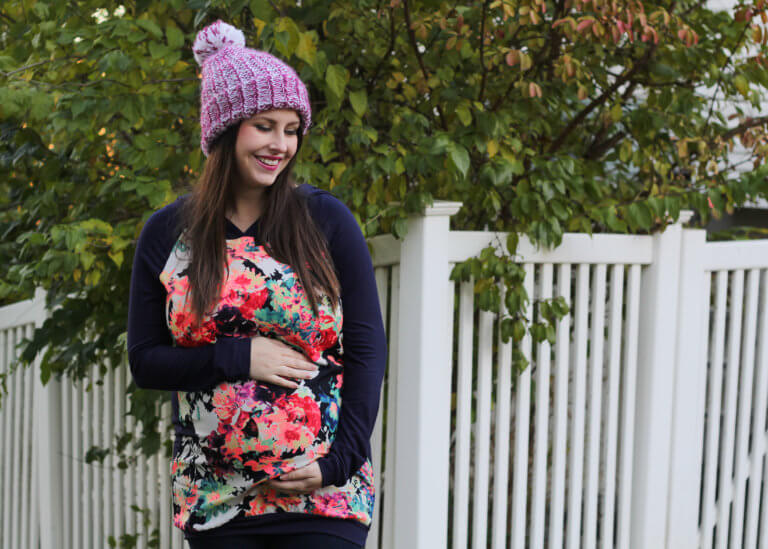 All of these items are on sale today! Pinkblush is having a Cyber Monday sale! Use the code CYBERMONDAY to get 40% off! This is an amazing sale and the best time to stock up. And if you aren't pregnant, make sure you check out the other clothes on their site. They don't only have maternity, but also non-maternity, shoes, and accessories.
And because Pinkblush is so generous, they are giving me a $75 gift card for a giveaway!! To enter, leave a comment below. If you are on Instagram, make sure you find the picture of Clementine and me and follow the instructions there to enter! The giveaway will be open for 24 hours and then I will choose a winner soon after! You will then have 24 hours to claim your prize before I choose a different winner.
Thank you for reading and good luck!