Happy September! I am so excited to be starting off this month with the windows open..even if it's only going to last for a couple days before we have to turn on the AC again. I finally got around to ordering our homeschool curriculum the other night (procrastinate much?) so I decided that we'll have one more week of summer break next week before we start the school year. The kids are all super eager to start school and I'm definitely looking forward to having a bit more structure to our days. When we start our school year, I'll also get a post up sharing which curriculum we chose and answering a few questions I've been asked about how we do things. Spoiler alert–I definitely take the laid back approach. I'm not a homeschool expert in the least bit but I'll be happy to share what works for us for now.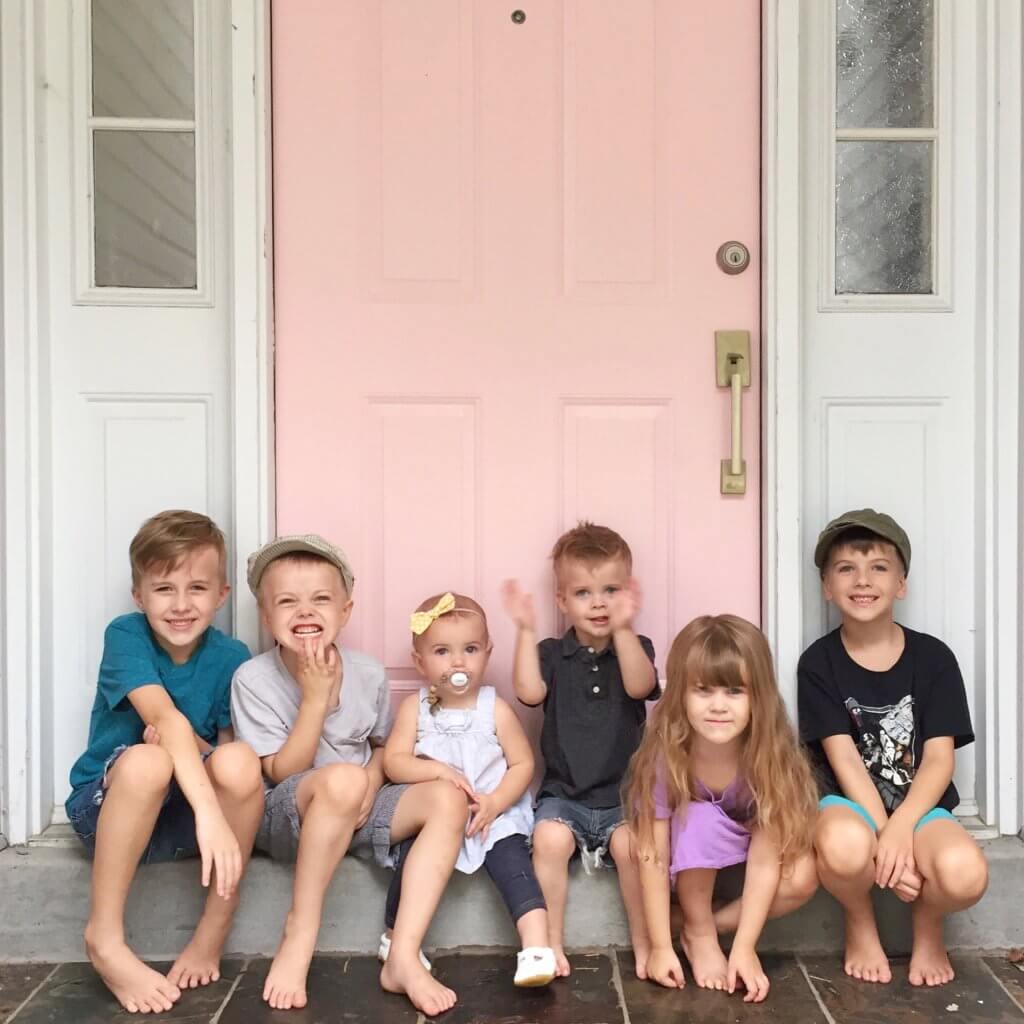 For those new around here, each month I like to do a recap of my iphone photos from the month before. Some are repeats from Instagram and some are just other photos I love from the month. When I posted that picture above on my Instagram feed, I had way too many people tell me how grown up Clementine looks. And as much as I'd like to deny it, I just can't. She'll be one in just over a month and she's been trying to walk for the past few weeks! And looking at that picture, she just looks huge!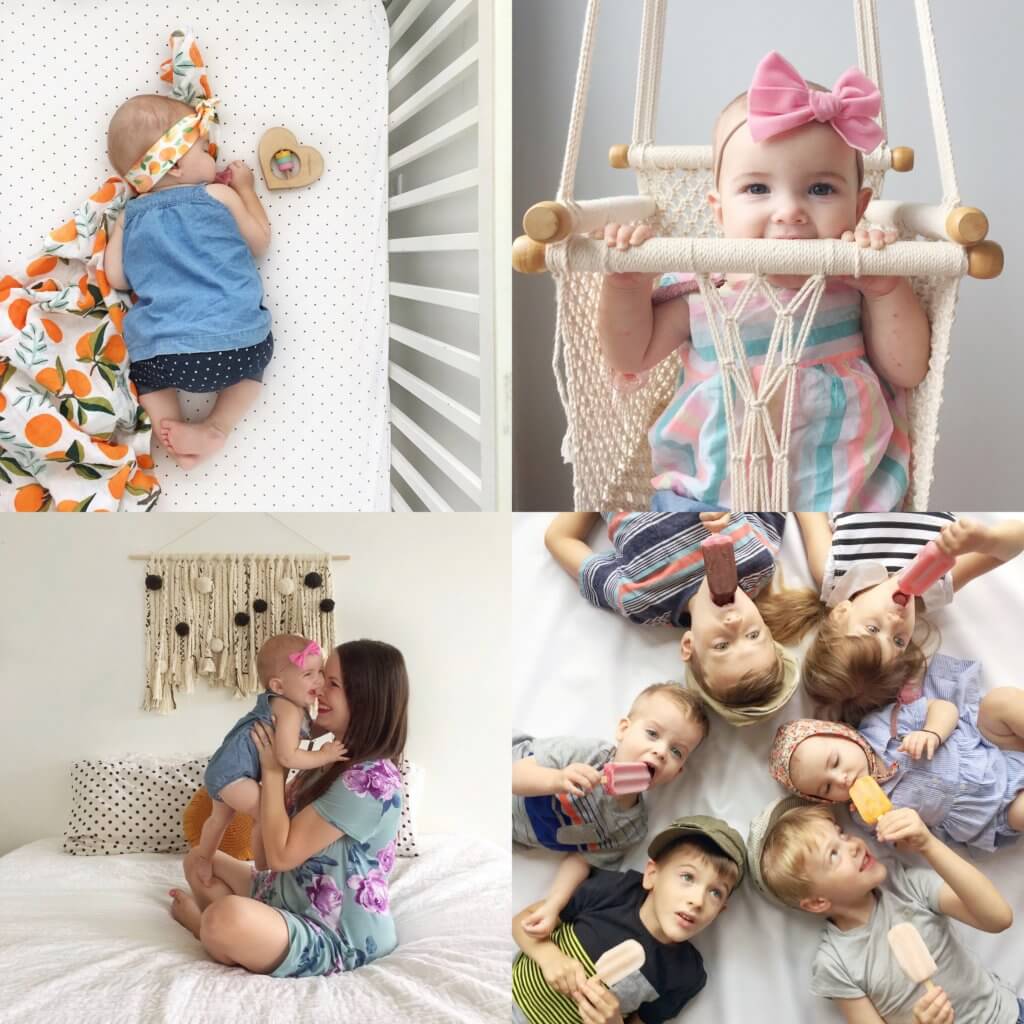 I just noticed a couple photos from this month were actually posted last month (not sure how I messed that up!) I was about to go back and re-do everything but that just takes way more effort than I have time for so you'll just be blessed with a couple of repeats this month.//Desmond and Clementine are snuggling with our favorite little dolls from Cuddle and Kind in the pictures below. For every doll sold, they donate 10 meals to children in need. And for the month of September, they'll be donating one meal for each new follower on their Instagram.//That picture of Don and the kids is a little behind the scenes peek from a magazine photoshoot. Don is being featured in a local magazine in an "Awesome Dad" article which I think is pretty cool and fitting! I'll share here when we get our copy later this month!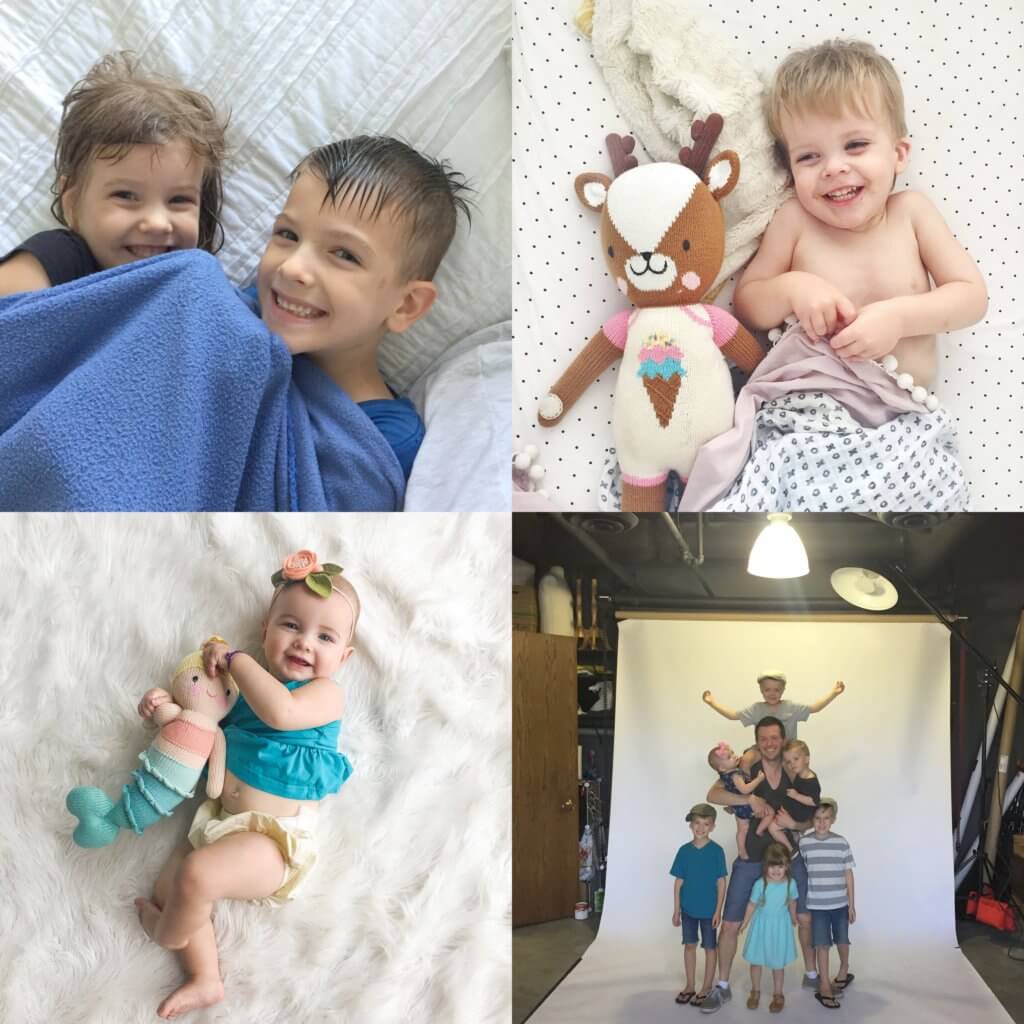 I did cheat a little on the two pictures on the right side for the below collage. They're technically from my DSLR but if I didn't post them here, they'd probably never make it to my blog. The family picture was on the 2 year anniversary of moving into our new house! We took a similar picture on the day we moved in and last's year's anniversary so it has become a fun tradition!//Also, we went in for my 14 week ultrasound a few weeks ago and the kids finally got to see baby #7 moving around on the screen. It was exciting for everyone! The technician tried to see what we're having but we left with nothing more than a guess. I'm just REALLY hoping my doctor is able to tell me when I go in to my next appointment at 18 weeks! Otherwise I'll be waiting until the end of this month. Either way, I'm brainstorming fun photo ideas for a reveal because that's just how I roll (but hopefully nothing that will go viral haha.)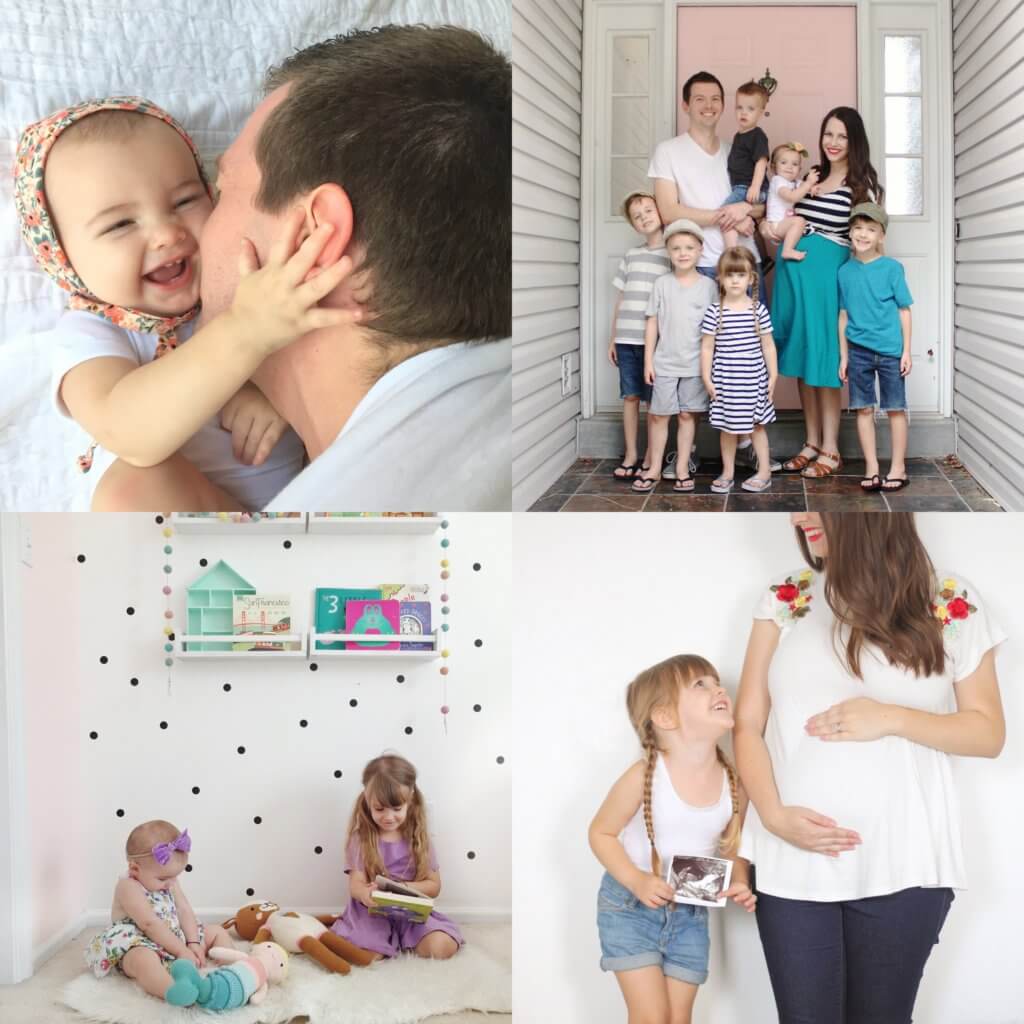 I debated mixing in my vacation iphone photos when I do my vacation posts but decided to just throw them in here. Love all these group shots of my kids! I have a whole hashtag of group shots on my instagram–#robertskidsgroupshots.//Also, not sure if you knew there was a solar eclipse last week 😉 Even though we live directly in the path of totality, we happened to travel out of state during that historic event. We still had the dorky glasses and did the dorky "looking at the eclipse" picture that everyone was doing. It was pretty neat to see but I guess a little underwhelming outside of totality. It's supposed to pass through our county again in 2024 so I'm not too disappointed that we missed out. I prefer a week on the beach to 2 minutes of daytime darkness.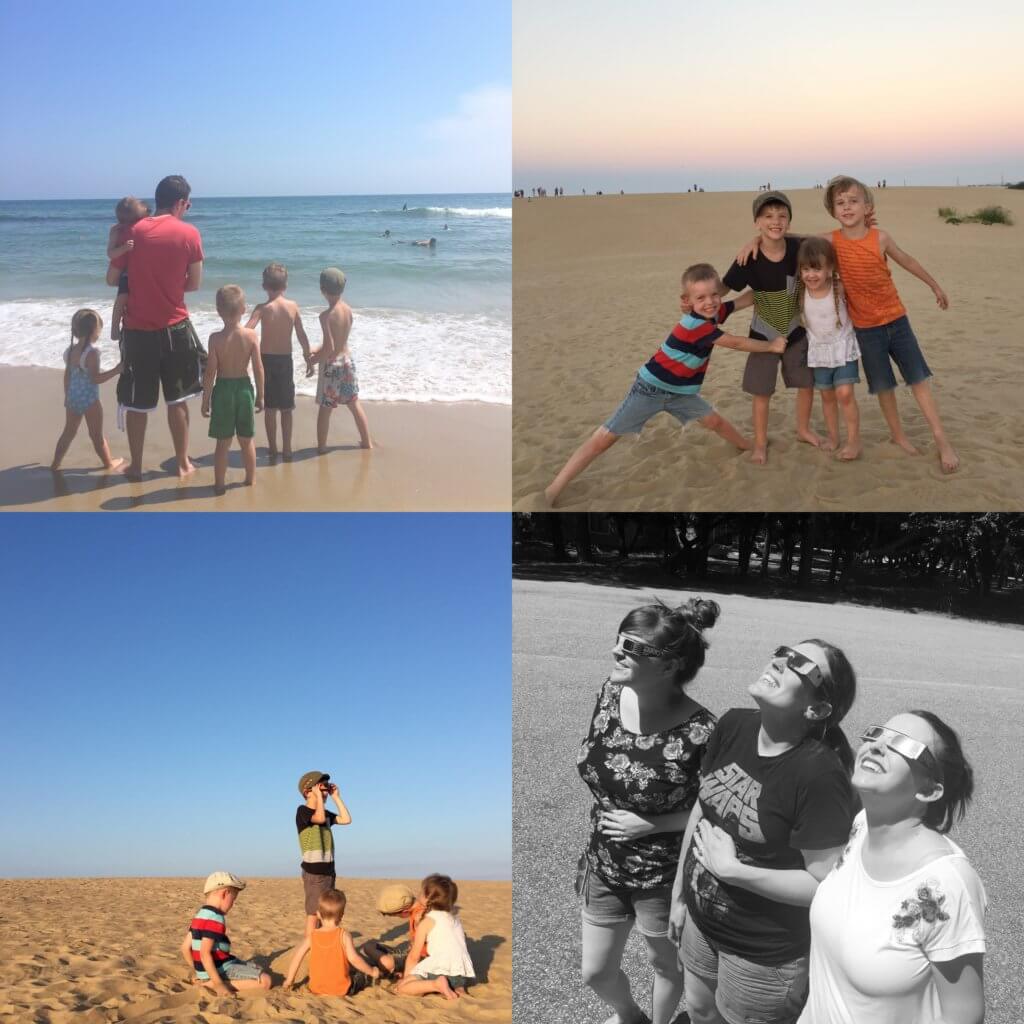 After Desmond spent the first day avoiding the sand, he spent the rest of the week getting as much sand on himself as possible. He loved everything about it–except getting cleaned up afterwards.//That bottom right picture is pretty much the best we could do for a quick shot of all 9 kids (9 and under) that vacationed together. By mid February, there will be 3 more little ones joining that crew! (Yes, Maggi and Stephanie are both also pregnant. Stephanie is due in October and Maggi is due just two days after me, in February!)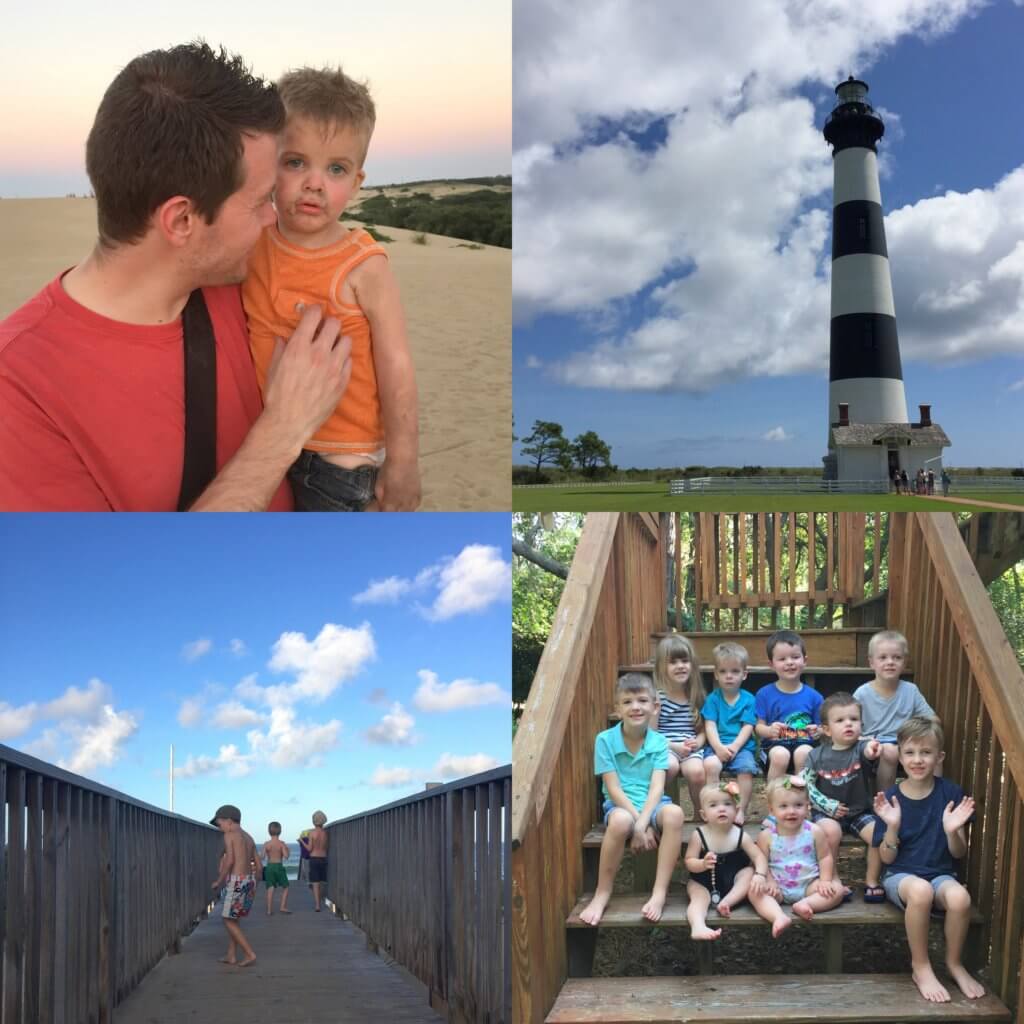 Liam wanted to go out for ice cream on his birthday. It ended up getting pushed back a few days but the ice cream did not disappoint!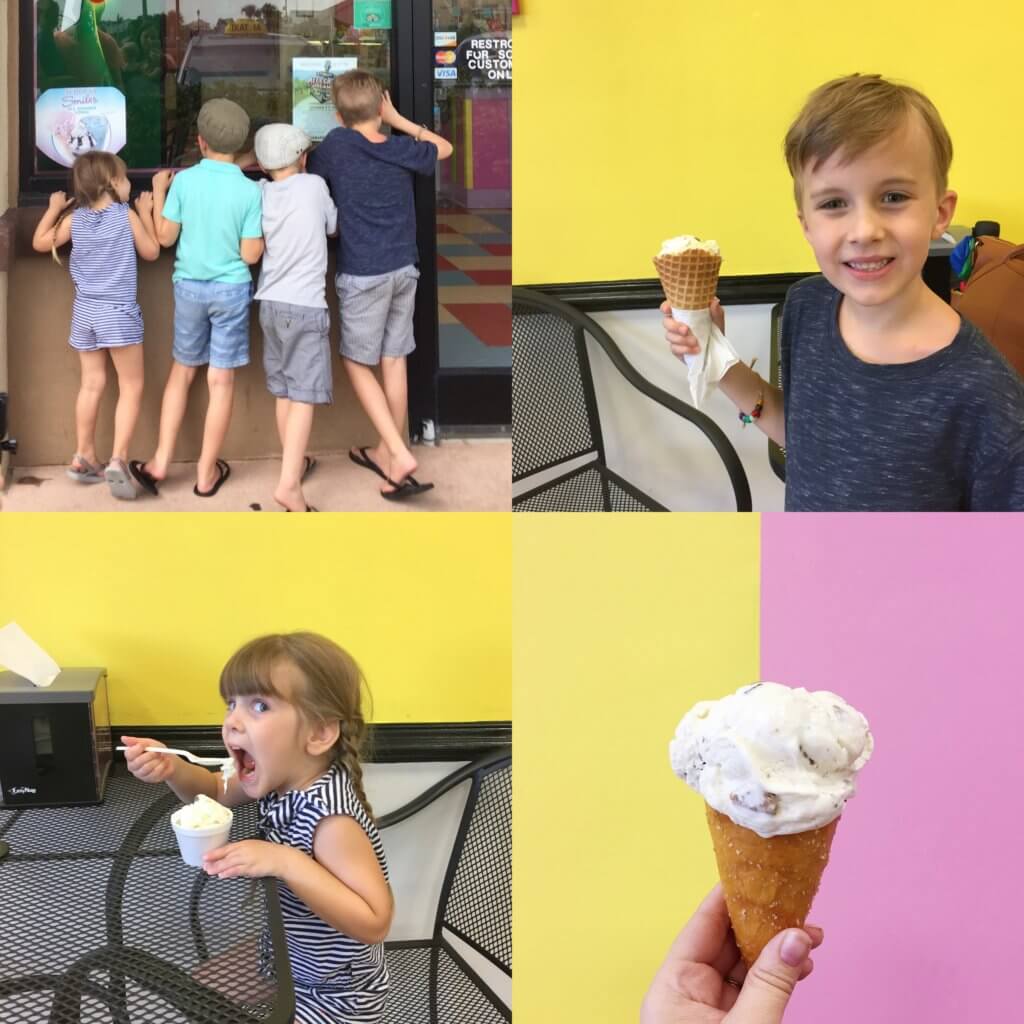 We went to the beach one evening to snap some quick family photos. It looked like a storm was rolling in so I was a little nervous but it made for some beautiful lighting! Don snapped the picture of me with his phone while Maggi was trying to get a few maternity shots for me.//Also, a happy standing baby on the beach!! And burgers and fries–my ultimate craving, whether I'm pregnant or not.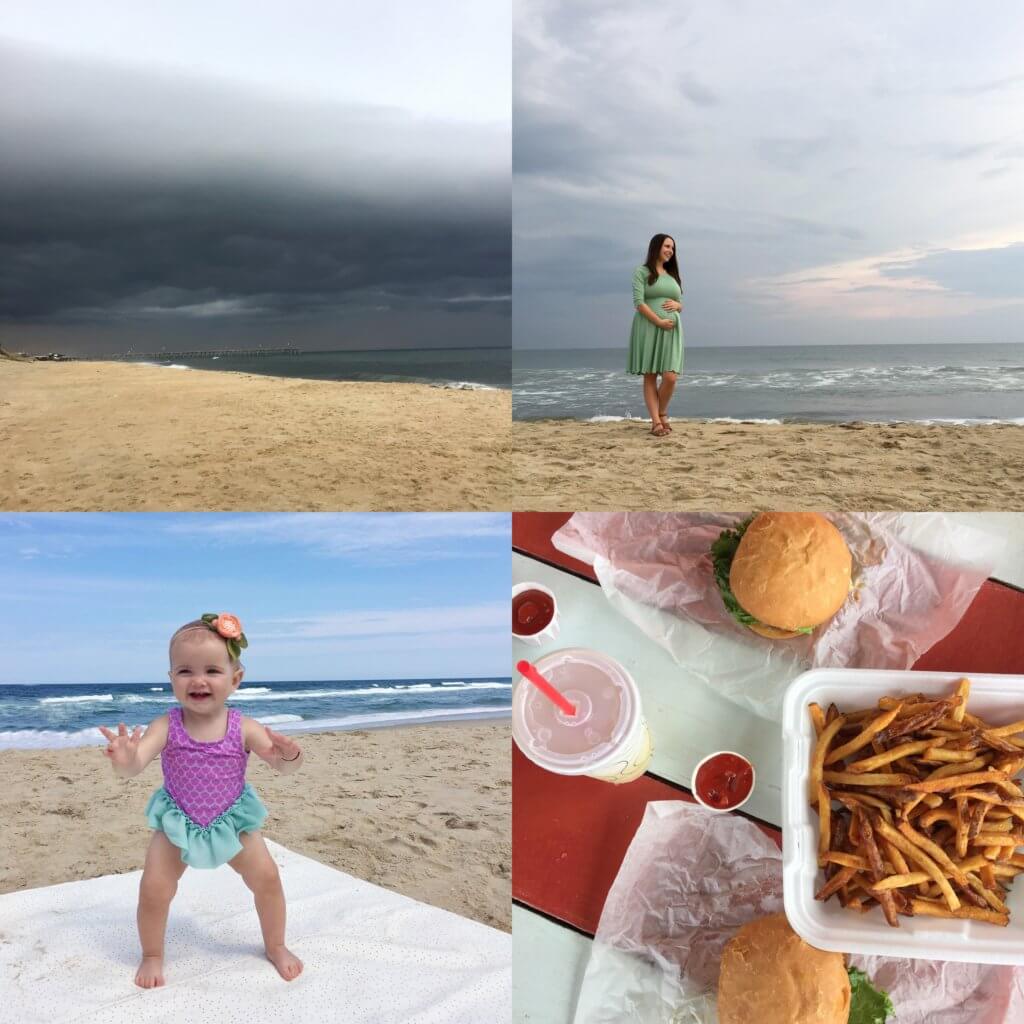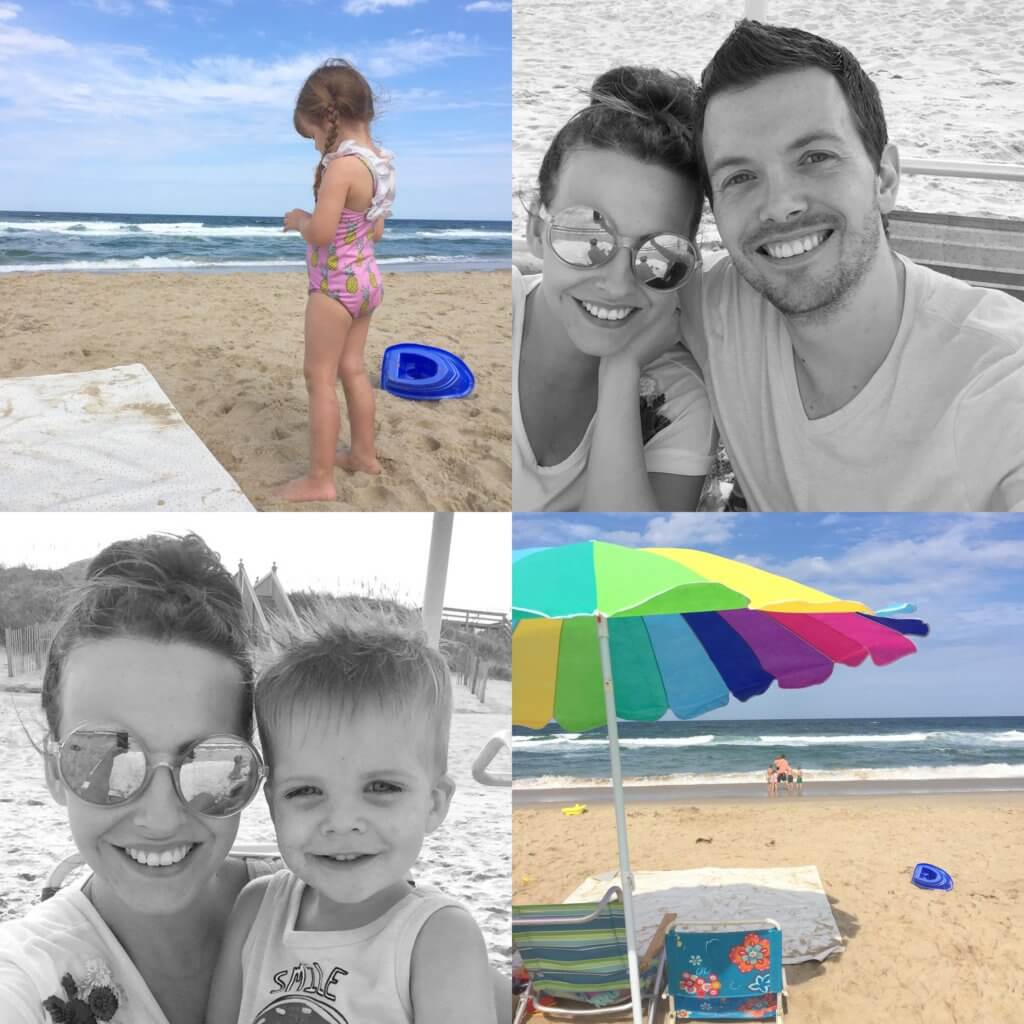 One evening, after the other two families left, I wanted to go to the beach for the sunset but none of the kids wanted to go along, even though I begged them haha. So I took a peaceful beach walk by myself.//And don't judge us for our 3 trips to Duck Donuts. The last day they tasted the best which made me want to have more. But we refrained.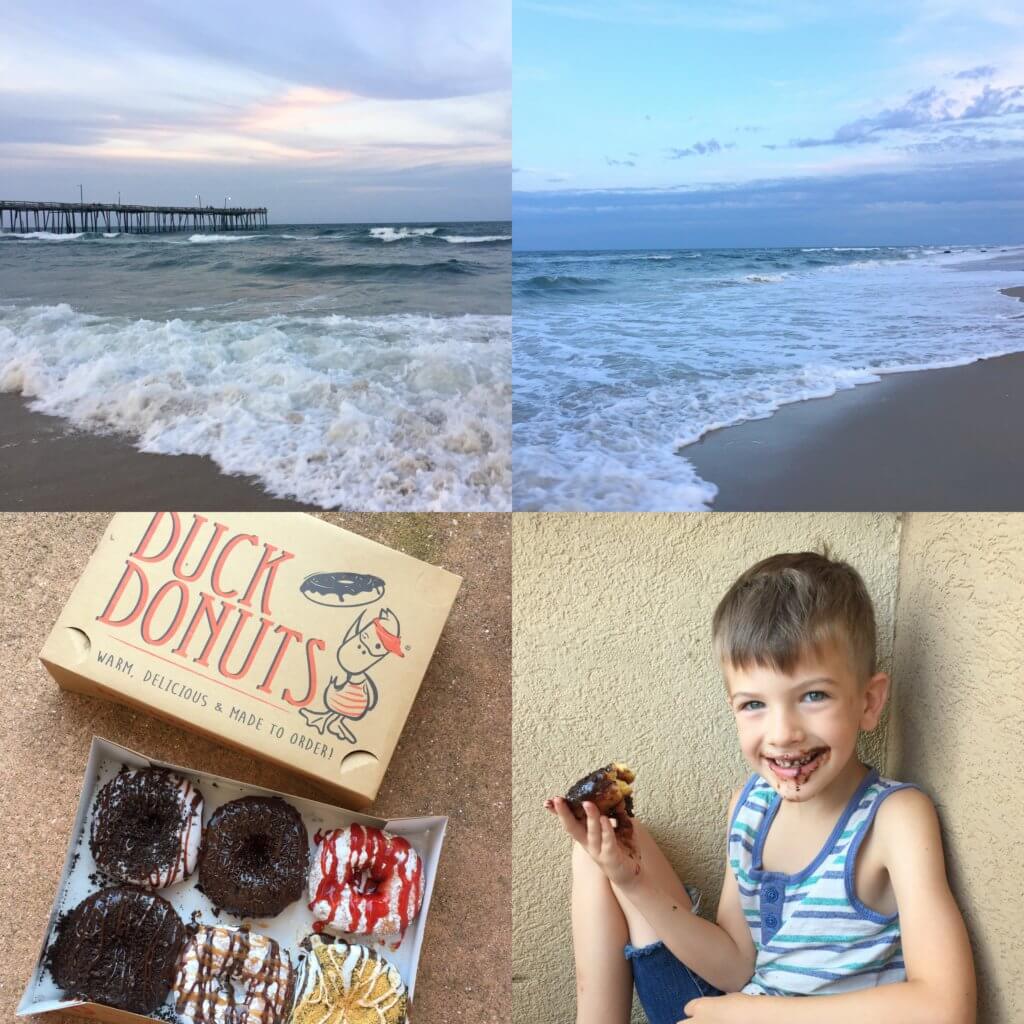 On one of our last evenings there, I remembered that I had specifically purchased kites and packed them for our trip to fly at the sand dunes. So we walked over there at sunset to fly them and it made me totally regret not pulling them out sooner. That part of the trip ended up being one of the highlights for me. They all had so much fun and it was just one of those times that I thought to myself how blessed I am. It was kind of chaotic getting to the dunes and when we got there, two kids decided they needed to pee—where there are no bathrooms in sight. But we distracted them with kites and soon forgot about the craziness of getting there. Not every outing is perfection, but I honestly forgot about the stressfulness of the night until I started typing here. The happy memories always stand out to me. Those moments make the effort worth it.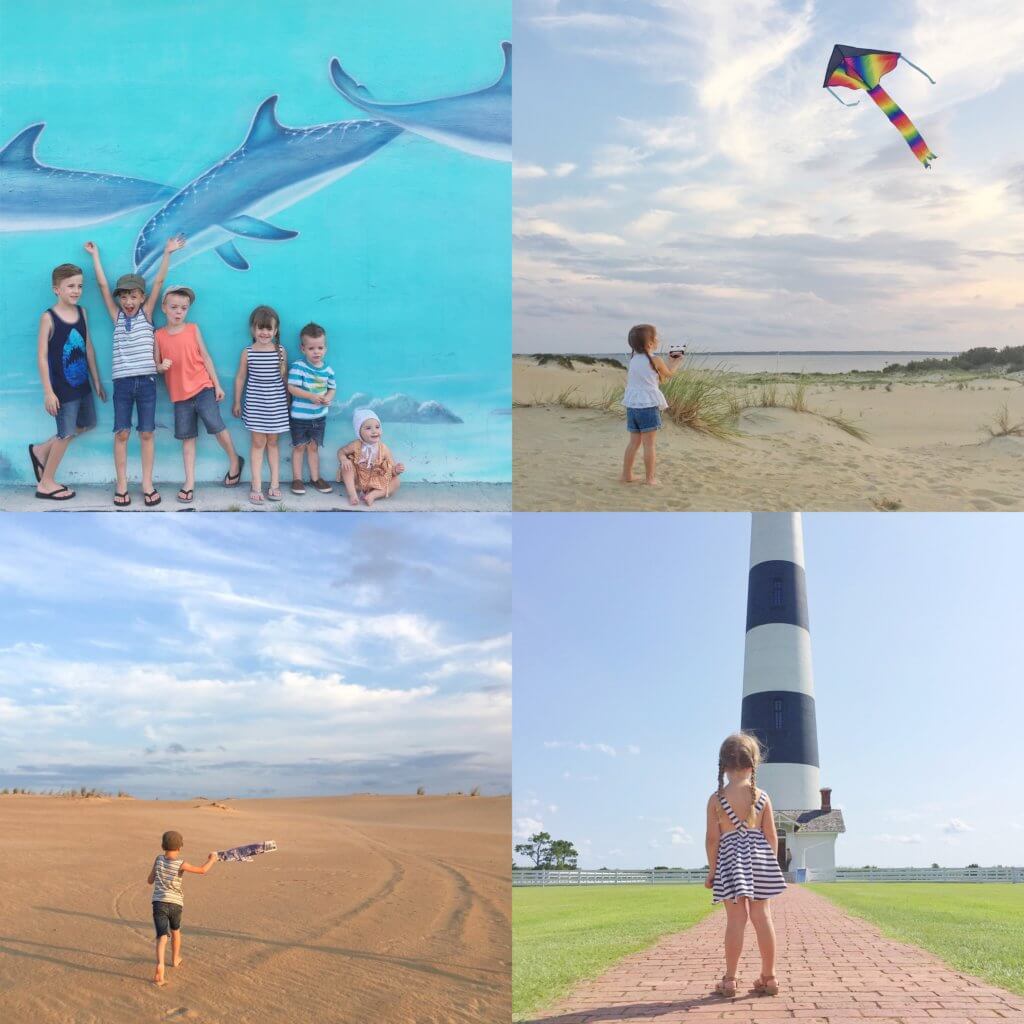 Our last day at the beach–aka the day Clementine let me set her in the sand without her crying. And she was actually playing! A little too late, baby girl.//The next day it took us 19 hours, 1025 miles, through 7 states to get back home. And the day after we got home, I felt like how Clem looks in that last picture. Except I didn't get to nap because all the other kids had endless energy. Can we please invent a way to transfer some of that energy from kids to the parents???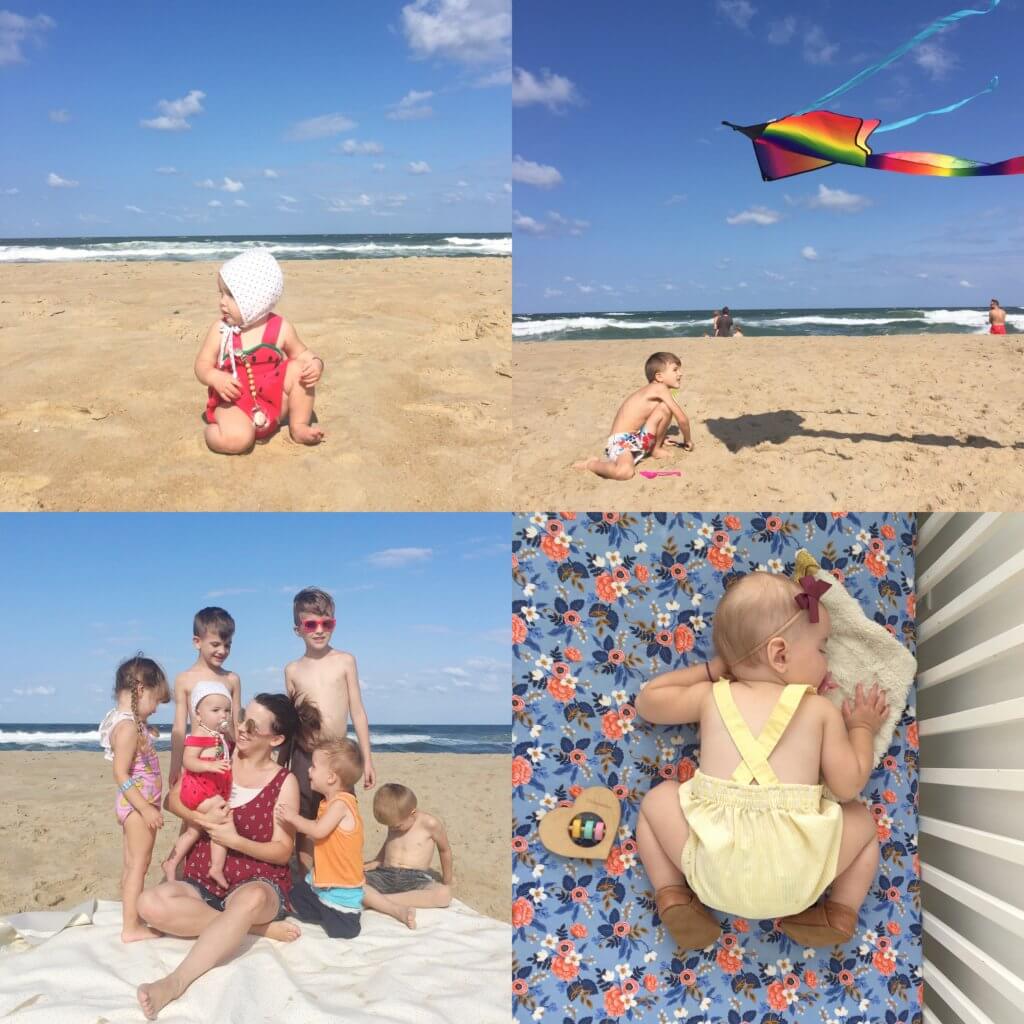 August was a good month but I am also really excited for September! Here's Don's Month in a Minute video for August (which sums up our month in 2 second video clips from each day!) and below that I'll include this past month's Kids Say–which really mostly features one kid. Have a happy long weekend for those of you have the day off on Monday!

Evangeline–"I love you, Kai, but I don't want you to kiss me or hug me."
Ever since we bought our Suburban a year ago, Kingston has only called it "the vehicle." We bought a new van and he immediately started calling it "the new Suburban."
Me–"Kingston, did you look in the mirror to see how handsome you look?"
Kingston–"Yeah…I know."
Me–"Why did you wake up so early and start talking to Clem?"
Evangeline–"Because. She was just so cute."
Me–"Did you know I'm going to be 30 on my next birthday?"
Evangeline–"Does that mean you're going to be so big? You'll be so big that you're going to break the place."
Evangeline–"The sun is in my eyes again. He's being really mean to us."
Evangeline–"Whoa, mommy! You have big cinnamon roll hair!"
(My hair was in a messy bun)