We have a bit of news to share….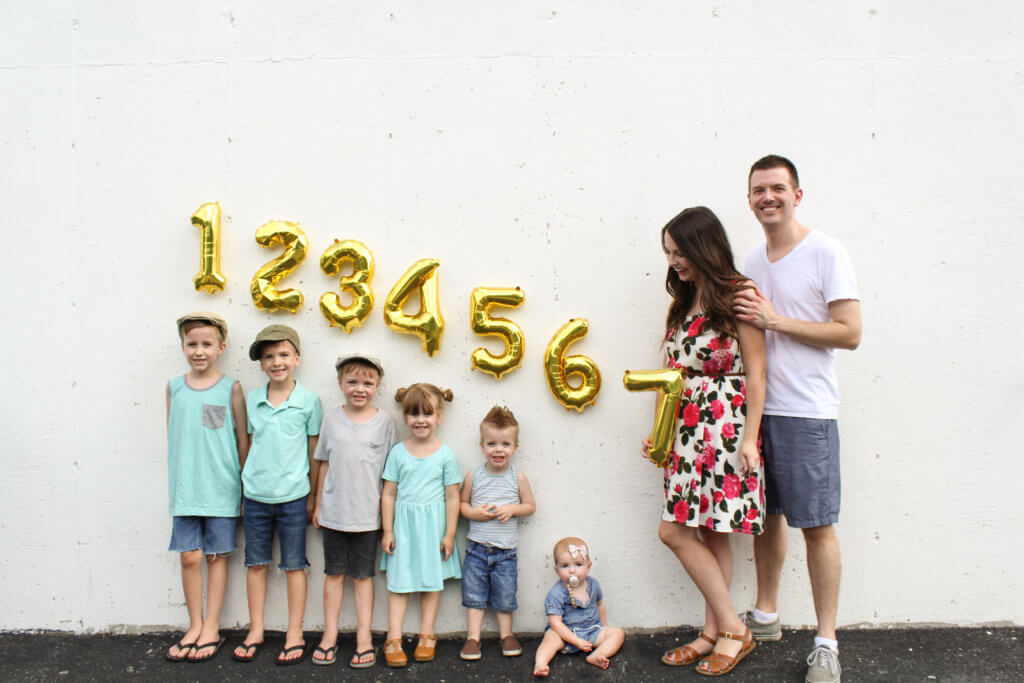 Baby #7, due February 2018. Surprise! Or maybe you're not surprised because you expect us to keep having babies approximately every 1 1/2 years until I die haha. But I will admit that it was a bit more of a surprise for us. I talk all the time about wanting 100 babies, but the other part of me kind of thought of Clementine as always being the "baby of the family." We just purchased a Suburban this past year, maxing out all the seats, and now we're already outgrowing it. But unexpected or not, this baby is meant for our family and so loved already. We can't wait to meet him or her!
After a bit of concern right after we found out, I had an ultrasound right around 6 weeks and I was happy to see a tiny little flickering heartbeat on the screen. That usually helps me feel a little bit more relaxed but I couldn't shake the nervousness I felt about losing the pregnancy.
On the Fourth of July, I was lighting some sparklers and snakes for my kids when my worst nightmare (and actually the exact nightmare that I had when I was sleeping the night before) happened and I suddenly lost a lot of blood. I immediately "knew" that I was having a miscarriage, but since I was only 8 weeks along, I knew there was nothing they could do for me at the hospital so I decided to wait until the next morning to call the doctor's office.
I was given the choice to go to the hospital for an ultrasound (and be charged hundreds for an ER visit) or I could get a blood test that day and then another test 2 days later to see if my levels were rising or falling. As terrified as I am about needles, and as much as I hated waiting for so long to get answers (I wouldn't get results until Monday,) I knew the blood tests were probably the wiser choice because of the cost. The week following the Fourth was torture. I won't go into a ton of detail about it on here, but it certainly did not seem like any of my previous miscarriages. (I'd be happy to explain more if you do have questions.)
I spent a lot of the time waiting just resting and praying. I had Don take off a couple days of work because I was very upset and uneasy about the wait and just needed his help to take care of the kids. At times I felt like things were fine, and then other times I was so sure that we had lost the baby (especially after having another "episode" on Sunday.) It was such a help to have him home with us for those days and it truly helped me get through the weekend.
Monday morning I called the doctor to get the results and was told that my numbers did rise, which was great news, but it was still impossible to know anything without an ultrasound. So I was scheduled for an ultrasound the next day. More torturous waiting–but at this point I was feeling slightly encouraged.
The drive to the office was extremely difficult for me. I felt so nauseated from nerves. I was so sure at this point that I had lost the baby, but I had just spent the last week googling so many things and my hopes were up way too high. My doctor immediately brought me back to the ultrasound room and right away found a little active baby with a healthy heartbeat, waving his/her little arm at me. **cue major, gigantic, happy tears.
After my doctor took the measurements and pictures, I asked what caused the bleeding. He quickly found the cause, a subchorionic hemorrhage, which is what I had kind of expected based on (a horrible source, but correct in this case) Google. He told me to expect more bleeding over the next 2 weeks as it resolves itself, and I will be going back for another ultrasound at 11 weeks. Praise the Lord! I felt such relief.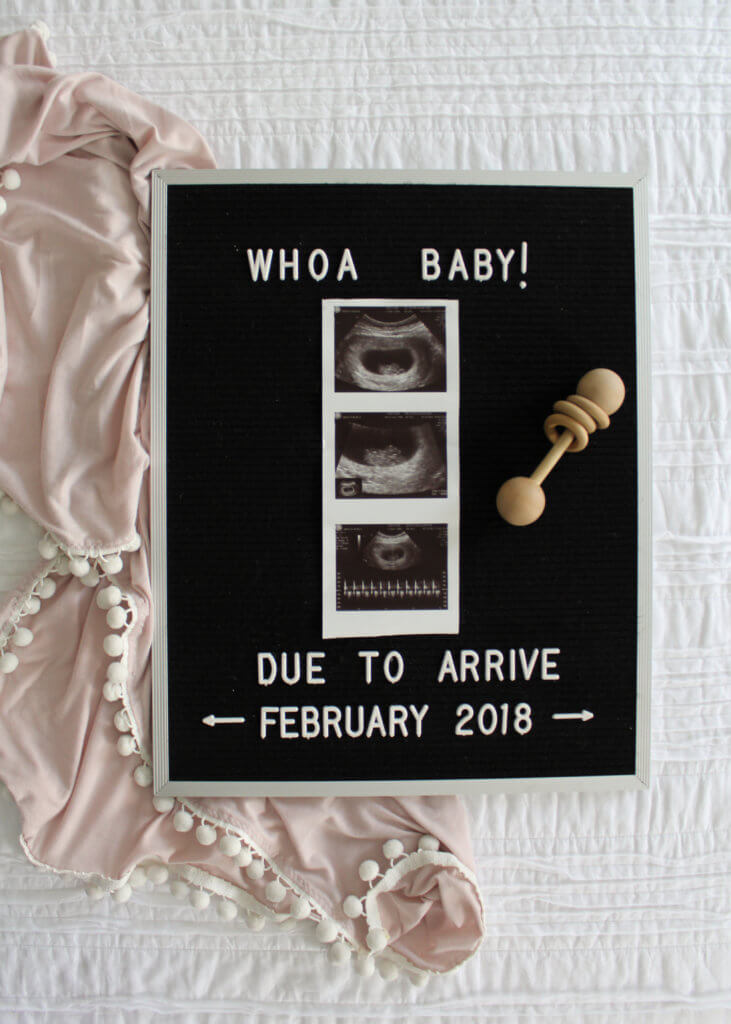 I had spent weeks worrying about the reaction that people would have for yet another pregnancy. We get a lot of annoying (not funny) teasing and jokes about our family size. People try to do it "innocently" but they are still hurtful. But after this whole scare with losing the pregnancy, I decided that it's not fair to this precious life not to be celebrated, even when there are people out there who want to joke about this child's existence. So I'm embracing it and celebrating this new life that we are all so excited about, especially because we never know how long we will have with this baby.
Maybe I will continue with a healthy pregnancy and meet this baby boy/girl, or maybe the Lord has other plans. I won't spend my time worrying about it, but instead I'll celebrate this time we have now. Having a big family is not for everyone, but even though it is overwhelming and exhausting at times, we love our big family and all the fun things that come with it. And I hope that if you're reading this, you can be happy for us and not share any unkind comments (even if you do think we're a bit crazy–because I already know you're probably right about that.) Anyway, thank you for reading along and I can't wait to see what this year has in store for us.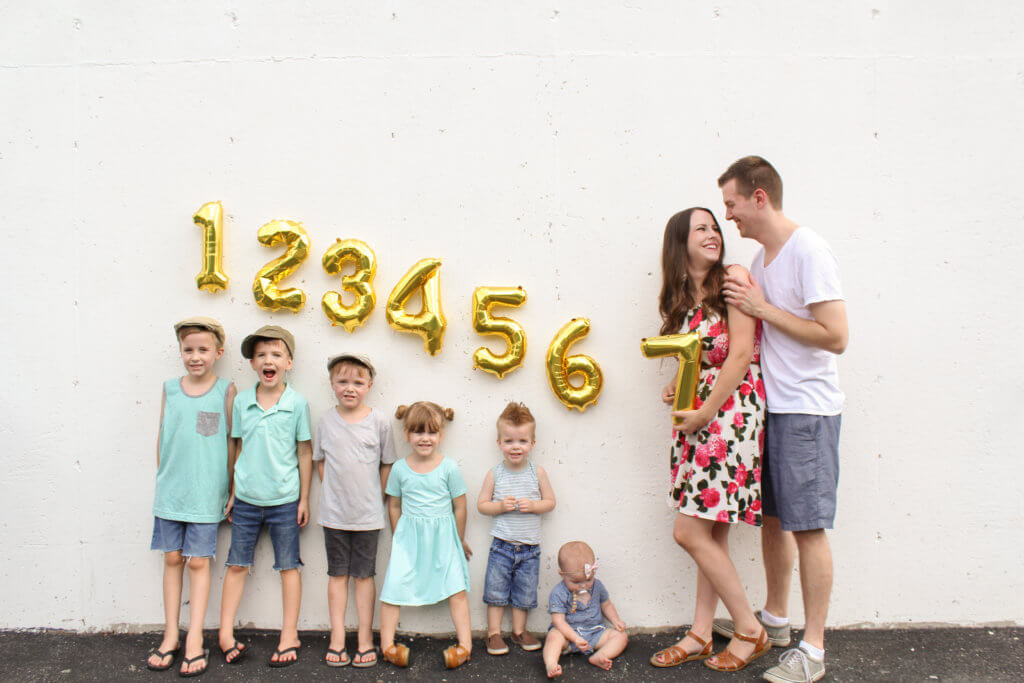 Thank you to our tripod and camera remote for taking these pictures of us. Because my kids cooperate so much better like that than with an actual photographer, for some reason. Balloon numbers from Hobby Lobby.
You can read here for our last two pregnancy announcements.
Our pregnancy announcement for Clementine